Pros and cons
Wide betting range from $0.40 to $800

Progressive jackpot available

Multi-platform support for gaming flexibility
Only 40 paylines for limited betting strategies

Maximum win rate relatively low at 1,000x
Flaming Hot Extreme Slot Review
Developer EGT Interactive marked its innovation in the online slot world with the release of Flaming Hot Extreme, which pairs vintage charm with modern gameplay. Emerged in January 2020, this game stands out in the casino landscape with its fiery theme and scorching opportunities for big wins. The slot's design kindles a sense of nostalgia, meshed with contemporary graphics that breathe life into the traditional fruit machine experience.
Flaming Hot Extreme unfolds on a sizzling backdrop, where classic fruit symbols are set ablaze, teasing the possibility of hot wins. The animation quality is crisp and seamless, enhancing the gameplay without relying on additional video sequences. The symphony of sounds in Flaming Hot Extreme is a harmonious blend of classic slot jingles intermingled with the exhilarating sizzle of flames, encapsulating the thrill of the win.
This slot finds its kinship in titles like
40 Super Hot
and
Burning Hot
, both by EGT, which similarly appeal to lovers of fruity zest wrapped in a sleek package.
Flaming Hot Extreme's flurry of flames does not discriminate, as it ignites across platforms, including iOS and Android devices, letting players turn up the heat from the comfort of their palms. Designed for the aficionado of tradition who craves a touch of modernity, the slot attracts a broad audience yearning for that perfect blend of past and present.
How to play Flaming Hot Extreme
Flaming Hot Extreme slot machine embodies a standard structure with 5 reels, 3 rows, and fixed 40 paylines spread across the grid. All lines remain active, offering players straightforward mechanics with the potential for rewarding complexities. With the promise of 40 paths to victory, all wins pay left to right, requiring a minimum of three matching symbols.
The interface complements the game's hot theme, embedding buttons as part of the flaming design while ensuring intuitive navigation for players. Here's a quick guide to the control buttons:
Coin Value – Adjust your stake per line.
Bet Size – Select your total bet for each spin.
Spin – Set the reels ablaze with your chosen bet.
Auto-Rotate – Enjoy hands-free gaming as the reels turn automatically.
Slot Information – Learn about paylines, symbols, and rules.
Mute – Toggle sound effects and background music on or off.
Bettors can wager with amounts ranging from $0.40 to a scorching $800, appealing to both modest players and high rollers. A high max win rate is counterbalanced by medium volatility and a solid RTP of 95.96%, standing its ground when compared to many contemporary online slots.
Flaming Hot Extreme Symbols
In Flaming Hot Extreme online, symbols are a delightful nod to the one-armed bandits of yore, replete with juicy fruits and the iconic lucky number seven. Symbols explode in vibrant hues against the fiery backdrop, seamlessly tying the gameplay to its theme while keeping pace with current trends.
The roster of profitable symbols includes:
Lucky 7: The show's star offers the highest multiplier, with a chance to win $1,000 on max paylines.
Gold Bar: Shimmers with promise, yielding up to $300 for a full line.
Fruits (Watermelon & Bananas): These refreshing slices can bring up to $200 in gains on optimal lines.
A flurry of other symbols, such as cherries, oranges, apples, and grapes, dot the reels with lower multipliers but are equally integral to achieving those winning combinations.
Special symbols
Flaming Hot Extreme slot shines a spotlight on its special symbols, packing a punch in your quest for fiery fortunes. These are not your average icons; they are the game-changers that alter the course of play with their unique capabilities.
Let's meet these game-altering icons:
Wild: The Wild symbol is the wildcard of the slot, bursting into flames upon the second, third, and fourth reels, substantially bolstering your chances of scoring a burning win.
Scatter: The golden Dollar Sign is not only laden with intrinsic value but equally unlocks the gateway to extravagant bonus rounds. Reverberating with the ring of riches, this symbol can multiply your stake up to a staggering 2,000x, transcending the primary game mode into one of boundless potential.
Flaming Hot Extreme Features
The allure of Flaming Hot Extreme lies in its deceptively simple yet captivating features. This slot machine takes the essence of fruit machines and infuses it with a potency that could lead to scalding rewards.
Free Spins
This is where the temperature truly escalates. Landing Scatters could usher in a cascade of free spins, which can be retriggered, perpetuating the play cycle without further bets. When 2+ scatter symbols appear, the reels will restart. Appeared scatter symbols are fixed on the reels at this time. This feature increases the probability of additional scatters occurring, opening access to 10 to 30 free spins. The free spins stage can be restarted.
Jackpot Cards Bonus
A random trigger that transports the player into a side game of luck. Unearth three matching card suit symbols, and you're guaranteed one of four progressive jackpots that could change your life in the blink of an eye.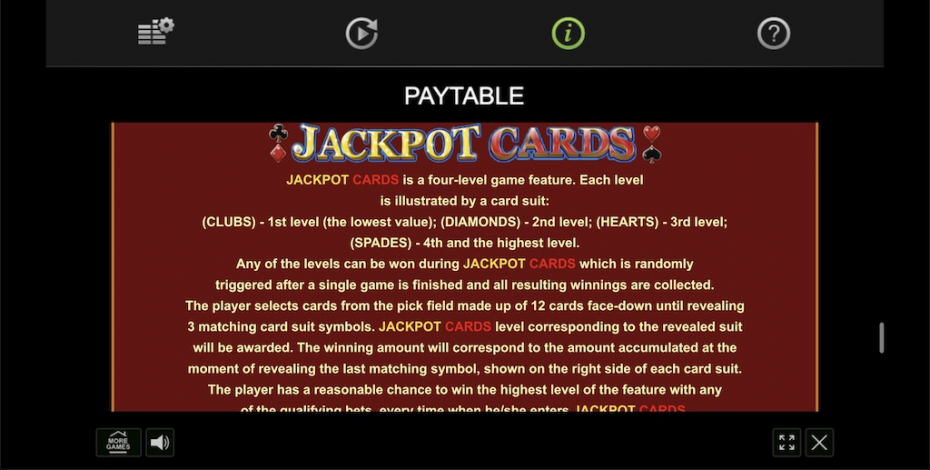 Play Flaming Hot Extreme for real money