Pros and cons
Wide betting range from $0.01 to $400

Offers a progressive jackpot

Supports iOS and Android platforms
Only 20 paylines

Lack of Free Spins
20 Super Hot Slot Review
The 20 Super Hot slot stands as a testament to EGT's tradition of combining classic fruit themes with modern gameplay dynamics, having burst onto the scene in June 2015. Its design refers to the nostalgia of fruit machines, set ablaze with vibrant animations of lemons, oranges, cherries, and grapes combusting into flames when aligning in triumphant configurations. Additionally, iconic lucky 7s and star symbols add to the excitement, augmenting the game's retro charm. While the game eschews complex characters and narratives, it thrives on simplicity, making every spin instantly familiar to slot lovers.
The slot revels in minimalism, sparingly using auditory elements, save for the crisp sound effects that punctuate spinning and wins. There is an absence of a dedicated soundtrack or intricate soundscapes, which lends a clear focus to the gameplay without auditory distractions.
Comparable slots in theme and content include Sizzling Hot by
Novomatic
and Fruit Shop by
NetEnt
, both celebrating the timeless fruit machine motif with similar straightforward mechanics.
Multi-platform compatibility is a strong suite for 20 Super Hot, as it transitions seamlessly across devices, including iOS and Android, enabling players to indulge in flaming fruit action wherever they go. The target audience for 20 Super Hot consists of traditionalists and newcomers who appreciate slots devoid of convoluted features and those who enjoy a touch of nostalgia in their gaming experience.
How to play 20 Super Hot
Commanding a traditional 5×3 grid structure, 20 Super Hot offers a fixed set of 20 paylines, delivering a straightforward gaming experience without overwhelming players with complex variations. Winning demands a simple alignment of three or more matching symbols traced from left to right. The design's simplicity extends to its user interface, which is intuitive and succinctly integrates into the game's overall theme.
Key controls are unambiguously presented: the 'coin value' adjusts the denomination of bets, 'bet size' tweaks stake amounts, the 'spin' icon sets the reels in motion, 'auto-rotate' enables uninterrupted gameplay, and 'slot information' opens the paytable. Additionally, players can find a mute option for sound control. Typically, these controls occupy the screen's lower section, ensuring easy access to all functionalities.
Bets range from as little as $0.01 to a powerful maximum of $1 per coin, tailored to cater to budget-conscious players and those looking to place more wagers. With a cap of $400, the maximum win rate soars to an impressive 10,000x the stake. 20 Super Hot offers an RTP of 95.79%, placing it marginally below the industry's average benchmark. Its low volatility suggests more frequent yet smaller wins, ideal for players inclined toward a cautious betting approach.
20 Super Hot Symbols
In alignment with its classic theme, 20 Super Hot's symbols echo the archetypal images of slot machines, displaying a fruit salad of cherries, lemons, oranges, plums, and watermelons, each crisply rendered and bursting with color. The adherence to tradition in this aspect marks a conscious choice by EGT, contributing to the game's retro appeal, even as the slot market trends toward more intricate designs and animations.
Grapes: Plump and purple clusters of grapes can be notably rewarding, yielding 2000 coins for a five-of-a-kind match at a 100-coin stake.
Watermelons: Deliciously ripe, the watermelon slices match the grapes in profitability.
Plums: Though not as valuable as grapes, a full line of plums can offer up to 1000 coins.
Cherries, Lemons, and Oranges: Representing the lower tier, landing five can earn players up to 500 coins.
The selection of fruit-themed symbols is complemented by the classic bell and star icons, with the latter serving as the game's scatter, which doles out attractive multipliers.
Special symbols
Special symbols in 20 Super Hot are pivotal elements that enhance the gaming experience and elevate the potential for gains. This slot offers a standard set of special symbols familiar within the video slot genre.
Wild Symbol: The 'Wild 7' icon stands out with a burnished red hue and the potency to replace other symbols, augmenting the chances of scoring high-value wins. Exclusive to the main mode, the wild promises 5,000 coins for a five-on-a-line match.
Scatter Symbol: Represented by a lustrous 'Star', the scatter diverges from customary gameplay by not triggering bonus rounds. Yet, it holds power to grant an extraordinary payout of 50,000 coins when five scatter alight upon the payline.
20 Super Hot Features
The features of a slot machine contribute significantly to its overall allure, often tantalizing players with the possibility of hefty payouts. 20 Super Hot, while streamlined in its bonus offerings, turns the heat up through alluring gameplay enhancements. Relative to its peers, the slot might seem modest in feature variety but compensates with the quality of its offerings, all of which reinforce the enticement of potential wins.
Gamble
With a notable absence of free spins and traditional bonus rounds, 20 Super Hot dispenses with contemporary trends and offers a singular, double-or-nothing gamble feature. This option allows players to stake their current round winnings on a 50/50 bet, potentially doubling their prize on a correct guess of the card color—red or black. Strategic usage of this feature can significantly amplify a player's earnings, though the risk is equally prominent. This high-stakes alternative injects an additional thrill into what might otherwise be considered a conventional game.
Jackpot Cards Mystery Bonus
Further elevating its game, 20 Super Hot includes a progressive jackpot feature, the Jackpot Cards Mystery bonus. Triggered randomly after a spin concludes, this feature presents a quartet of escalating jackpot levels. Players select from twelve face-down cards and aim to unveil three matching card suit symbols corresponding to one of the jackpots. Success in matching three-of-a-kind results in winning that specified jackpot, leading to sizable financial gains, thus solidifying 20 Super Hot as a game that can balance its traditional roots with rewarding perks.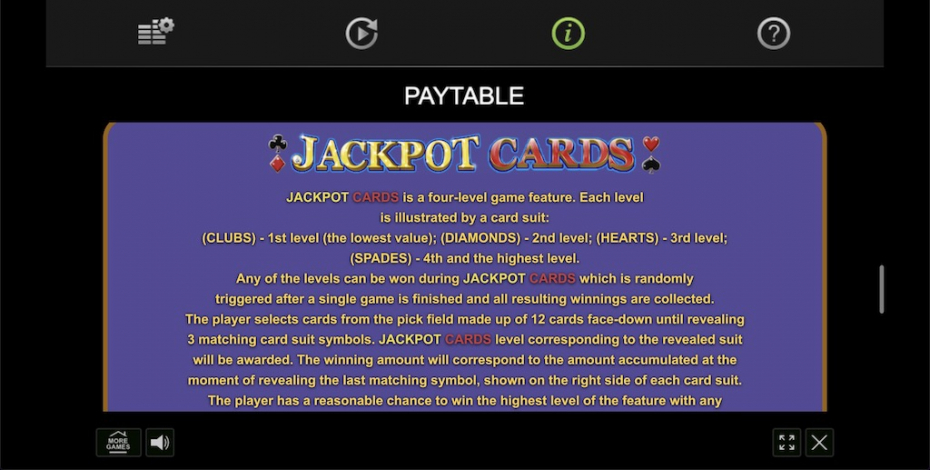 Play 20 Super Hot for real money