Pros and cons
High RTP (96.45%)

Progressive Jackpot

Supports iOS, Android

Up to €100 max bet

Win up to 60,000x bet
Burning Hot Slot Review
Developed by EGT, the Burning Hot slot maintains the classically inclined essence of traditional fruit machines while embracing the digital conveniences of modern online slots. Although the precise month and year of its release weren't mentioned, this game creates a virtual space that's reminiscent of physical casinos and their enduring attraction. Set against a vibrant green backdrop, the graphics unfold with clarity and color; lush fruits like cherries, watermelons, and lemons dominate the reels, representing the timeless aesthetic of old-school slots.
Animations in Burning Hot are kept to a minimum, focusing on the symbols' fiery transformations when they form winning combinations, complementing the 'burning' theme without complicating the gameplay with extraneous effects. Players are further sunk into the gameplay by the cheerful soundtracks and classic slot sound effects that ring with each spin and win, enhancing the overall immersive experience without dominating it.
As for alternatives that share thematic and content similarities, players might find the same nostalgia in slots like Sizzling Hot by
Novomatic
or Fruit Shop by
NetEnt
. These titles also feature the traditional fruit machine gameplay with modern twists.
The game is crafted for multi-platform enjoyment, suitable for play on desktop computers and mobile devices running iOS and Android. Targeting retro gaming fans and those who enjoy straightforward slot mechanics, Burning Hot is designed to appeal to a broad audience, especially those who appreciate the simplicity and charm of the classic fruit slot era.
How to Play Burning Hot
Burning Hot by EGT presents a structure that refers to the simplicity of classic slots, with its 5 reels, 3 rows, and 5 fixed paylines. This standard configuration lacks complex elements, which bodes well for new players and purists who prefer a straightforward spinning session. The wins are attributed to combinations of symbols running from left to right, and with the fixed paylines, the user is spared the complication of adjusting them. The user interface echoes the game's simplicity; it's intuitive and cleanly integrated into the overall fruit machine design motif.
Controls form the staple setup of most slots:
Coin Value – rarely visible, as the game typically uses fixed values.
Bet Size – designated buttons for increasing or decreasing the wager.
Spin – a prominent button to initiate a single rotation.
Auto-rotate – for continuous play without manual intervention.
Slot Information – an 'i' icon or similar reveals the paytable and game instructions.
Mute – an option to silence the game sounds for a quieter experience.
Additionally, specific control buttons can be found that adjust the bet value quickly, with denominations often seen below the reels, offering ranges from 5 to 100 coins per spin.
The generously high RTP of 96.45% sits above average compared to other slots, favoring the player with a fair return potential. The low volatility ensures that while massive jackpots might be less frequent, smaller wins will appear more frequently, providing a steady stream of potential victories that align with a risk-averse playing style.
Burning Hot Symbols
The reel symbols in Burning Hot are directly taken from the arsenal of classic slot imagery: vibrant cherries, zesty lemons, sweet oranges, and plump grapes all make an appearance, underscoring the game's devotion to the fruit slot tradition. This array of symbols pays homage to the core fruit machine concept and demonstrates EGT's commitment to upholding the standards of timeless slot themes with an animation flare that brings a touch of novelty.
The most valuable symbols in Burning Hot indeed resonate with the old-school charm and offer substantial winning opportunities:
Lucky Number 7: A symbol of good fortune in slot lore, with the highest payouts reaching up to 60,000 coins for a match of five.
Golden Star Scatter: While not conforming to paylines, they add sparkle to the winnings, with a cluster of three stars shining with a payout of up to 2,000 coins.
Dollar Scatter: Symbolizing wealth, landing up to five across the reels could bestow a payout of 500 gems.
The rest of the symbols, predominantly fruit, follow suit with their payout potential. Melons and grapes offer a juicy reward of up to 10,000 coins, whereas the less rare cherries, lemons, and oranges offer a tangy win of 2,000 coins when matching the reels just right. Bells resonate with a payout of 4,000 coins, all contributing to the nostalgic and potentially rewarding experience of Burning Hot.
Special symbols
Special symbols in slots such as Burning Hot are the cornerstone for additional excitement, often carrying unique features that can transform the gameplay. Compared to other slots, Burning Hot holds to tradition with a select few special icons that elevate the play without overwhelming it with complexity. These symbols are your keys to unlocking larger wins and added game dimension in this game.
Wild Symbol – Lucky Clover: Exuding the essence of good fortune, the wild is a vibrant clover that can substitute other symbols, sans the scatters, to complete a winning line. Found only in the central reels (2, 3, and 4), the lucky clover can significantly up the stakes of any ordinary spin by turning near misses into wins.
Scatter Symbol – Dollar Sign: This gilded icon, free from the constraints of paylines, can appear scattered anywhere on the reels. The dollar sign scatter promises a prosperous payout, potentially rewarding the player with a bounty of up to 500 gems.
Scatter Symbol – Purple Star: Unlike its fellow scatter, the purple star confines its sparkling presence to reels 1, 3, and 5. When it graces all three reels, it bestows a shiny reward of 100 gems, enhancing the game's payout terrain without requiring standard line matches.
Burning Hot Features
The game features embedded within the Burning Hot slot machine are crafted with a dual aim: to generate excitement and to increase the potential for significant wins. Relative to other slots, Burning Hot offers a modest number of features, staying true to its fruit machine legacy but incorporating enough modern twists to appeal to a broad range of players.
Gamble
One of the impressive bonuses of the Burning Hot slot is the Gamble feature. After any win, players can double their money through a simple red or black card game. Though carrying the risk of losing the winnings, this 50/50 gamble can dramatically increase the payout for those willing to take the chance.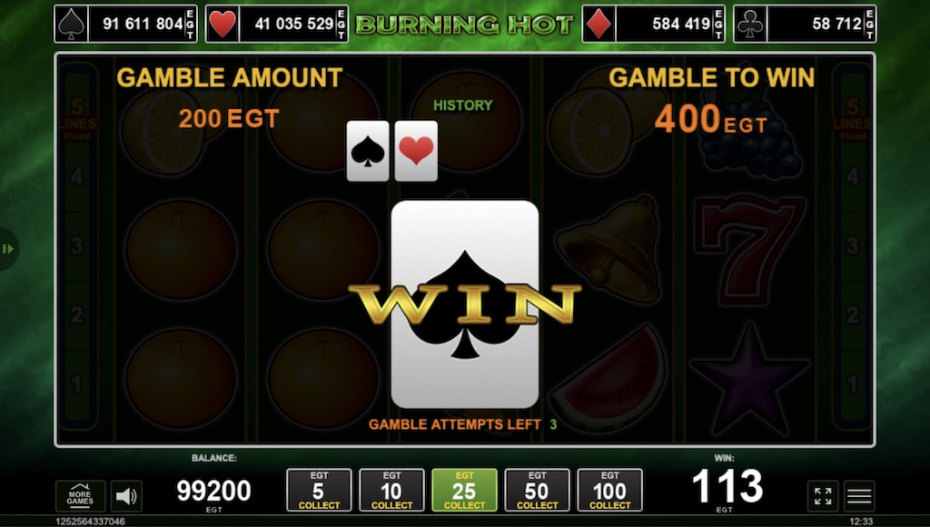 Jackpot Cards
Another captivating element is the randomly triggered Jackpot Cards feature, a four-level mystery jackpot. Each level is represented by a playing card suit: clubs, diamonds, hearts, and spades. When this feature is activated, players are presented with twelve face-down cards and are tasked with uncovering three matching suits. Upon success, they are awarded the jackpot that corresponds to the suit revealed. The progressive jackpot amounts continually rise with each spin, adding an ever-present excitement to the game.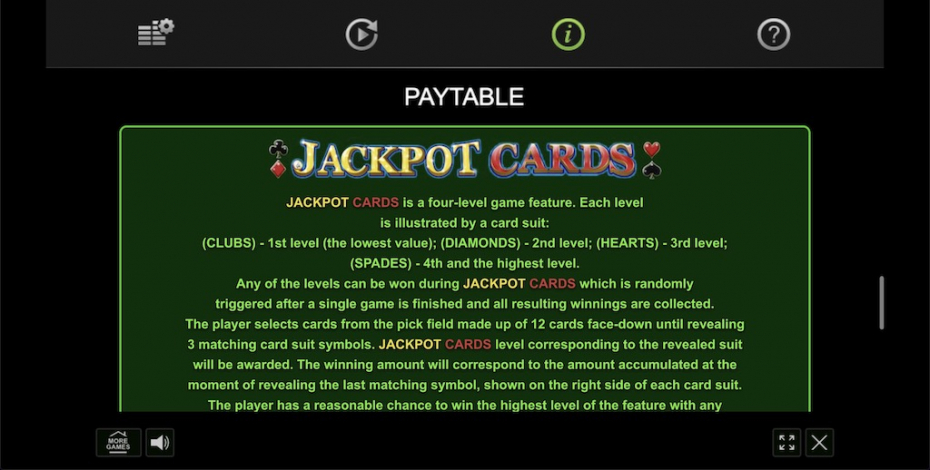 Play Burning Hot for real money