Pros and cons
1024 ways to win with 5x4 grid.

Twin Reels Feature.

Available on both iOS and Android.
Low level of maximum winnings x1000.
Twin Fruits of Santa Slot Review
Mascot Gaming, a renowned name in online slots, unveiled its festive masterpiece, "Twin Fruits of Santa," in December 2021. With its impeccable design, this slot game transports players to a winter wonderland where the spirit of Christmas is alive and well. The atmosphere is a harmonious blend of the traditional festive season and a fruity twist, making it both familiar and refreshingly new.
The narrative revolves around the cheerful Santa Claus and his fruity escapades. Santa takes center stage as one of the high-paying symbols, accompanied by Mrs. Claus and a plethora of fruits dressed in their festive best. The game's animation quality is top-notch, with the falling snowflakes in the background adding a touch of realism. Additional animations, like the synchronized reels, further enhance the gaming experience.
The auditory experience is equally captivating. Classic Christmas tunes, coupled with the jingling of bells, create a merry and immersive soundscape. For those seeking similar thematic experiences, "Fruit Shop Christmas Edition" by
NetEnt
and "Holiday Spirits" by
Play'n GO
come to mind.
Moreover, "Twin Fruits of Santa" is multi-platform compatible, ensuring players can indulge in this festive treat on iOS and Android devices. In summary, this slot is perfect for those who cherish the Christmas spirit and are looking for a game that offers entertainment and substantial winning opportunities.
Twin Fruits of Santa How to Play
Diving into the mechanics of "Twin Fruits of Santa," players are greeted with a game structure that boasts 5 reels, 4 rows, and an impressive 1024 ways to win. This all-ways-pay system deviates from traditional payline slots, offering players more opportunities to form winning combinations. Winning patterns emerge when matching symbols land on adjacent reels from left to right, starting from the leftmost reel.
The user interface is intuitively designed, ensuring both novices and seasoned players can easily navigate. The design seamlessly integrates with the game's theme, immersing the experience. Key control buttons include:
Spin Button: A yellow circle with a dark arrow positioned below the central reel, responsible for initiating the spins.
Coins Icon: Adjusts the bet size and is located before the spin button.
Speaker Icon: Manages the game's audio, allowing players to adjust or mute the sound.
Rabbit Sign: Enhances the spin speed.
Two Pointers Sign: Activates the auto-play feature, offering between 10 to infinite automated spins.
Three Lines in a Circle: Directs players to the paytable and general settings.
For those keen on the numbers, the game offers a bet range from €0.25 to €50 per spin, considering the 1024 ways to win. While the maximum win rate isn't explicitly mentioned, the game hints at substantial payouts, especially when leveraging the game's features. The slot's RTP stands at 95.5%, placing it within the typical range for online slots. Coupled with its medium volatility, "Twin Fruits of Santa" balances the frequency and size of potential wins.
Twin Fruits of Santa Symbols
Symbols in "Twin Fruits of Santa" are a delightful blend of Christmas cheer and fruity fun. They resonate with the game's title, offering vibrant animations that echo the festive theme. The detailed designs and innovative symbol features show the progression from classic slots.
High-value symbols include:
Santa Claus: Depicting the jolly old man himself, it offers multipliers ranging from 1 to 20.
Santa's Helper: A female character with multipliers from 0.8 to 10.
Blue Seven: Represents the number seven in blue, with multipliers of 0.4 to 4.8.
Other symbols, like the frozen fruits, add to the game's charm. These include the Orange, Lemon, Apple, Watermelon, Raspberry, and Bananas, each with its distinct multipliers. For instance, frozen bananas have multipliers ranging from 0.12 to 1.
Special symbols
Special symbols in "Twin Fruits of Santa" are pivotal in enhancing the gameplay, offering unique advantages that set them apart from regular symbols. In comparisonComparedr slots, this game's special symbols are intricately designed, both visual functionally, to maximize designedplayer engagement and potential rewards.
Wild (Royal Crown): This symbol, represented by a majestic crown, is a game-changer. Its shimmering appearance is complemented by distinct sound effects that play upon its landing. The Wild symbol can substitute for all other symbols, amplifying the chances of forming winning combinations. It's versatile, appearing on all reels except the first, and is present in both the primary game mode and potential bonus modes. While the Wild doesn't have its multiplier, its primary function is to bolster winning patterns, making it a symbol players eagerly anticipate.
Twin Fruits of Santa Features
Slot features are the heart and soul of any game, determining its appeal and replay value. "Twin Fruits of Santa" is no exception, offering features that align with its theme and provide substantial winning opportunities. The game's diverse features are numerous, making it stand out in the crowded world of online slots.
Twin Reels Feature
This feature is a testament to the game's innovation. Activated on every spin, it transforms 2 to 5 adjacent reels into identical ones. The visual representation is striking, with the synchronized reels highlighted in golden, emphasizing unity. The accompanying sound effects add to the anticipation.
The rules are straightforward: once the reels stop spinning, all symbols on these synchronized reels match, increasing the odds of forming winning combinations. This feature's uniqueness lies in its deviation from the standard gameplay, where each reel spins independently. While no additional multipliers are associated with this feature, the potential for significant wins, mainly when more reels synchronize, is immense. The Twin Reels Feature is inherent to every spin, ensuring players are constantly engaged and hopeful for big wins.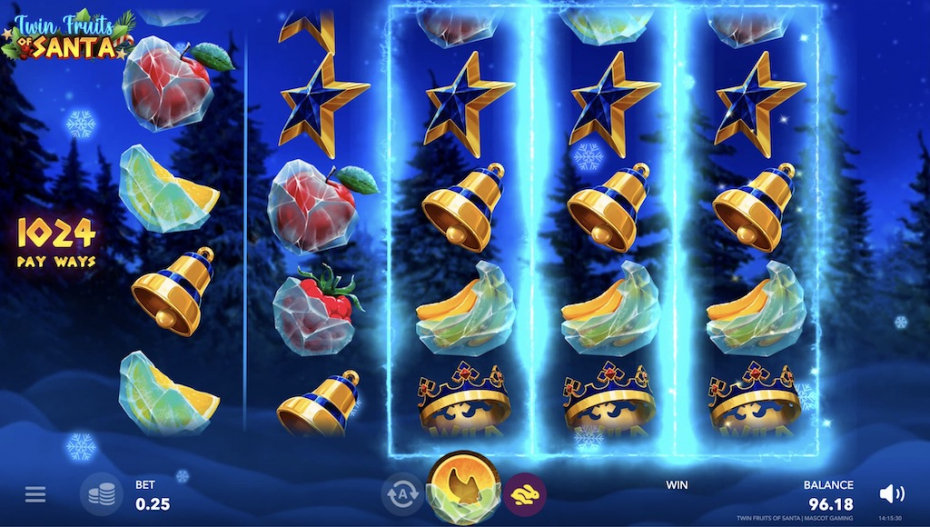 Play Twin Fruits of Santa for real money