Pros and cons
Wide betting range.

Accessible on multiple platforms.

Unique Growing Modifiers feature.

Free Spins feature available.
Red Horde Slot Review
Developed by the renowned Mascot Gaming, the "Red Horde" slot was introduced to the gaming world in December 2019. This game transports players to a medieval realm, where goblins and knights coexist in a vibrant, animated landscape. The plot revolves around the relentless Red Horde, a group of goblins, and their quest for dominance. Key characters include the menacing goblin leader, the brave knight, and the innocent village boy, each playing a pivotal role in the unfolding narrative.
The game's animation is of top-tier quality, seamlessly blending 2D and 3D elements. Additional animations and video sequences further enhance the gaming experience, immersing players in the unfolding story. Complementing the visuals, the auditory experience is equally captivating. The soundtrack, a blend of medieval tunes and battle cries, sets the mood, while sound effects and voices add depth, making each spin and win feel momentous.
For those who appreciate the medieval theme of "Red Horde", similar slots include "Knight's Quest" by
Novomatic
and "Goblin's Cave" by
Playtech
. These games, like "Red Horde", dive into a world of knights, goblins, and treasures.
"Red Horde" is multi-platform compatible, ensuring gamers can enjoy it on iOS and Android devices. This slot is tailored for those who relish a blend of medieval fantasy, captivating narratives, and the thrill of potential big wins.
How to Play Red Horde
"Red Horde" presents a classic game structure featuring 5 reels, 3 rows, and 15 fixed paylines. This standard layout ensures that newcomers and seasoned players can easily navigate the game. Winning combinations are formed from left to right, starting from the leftmost reel, typically requiring three or more matching symbols.
The user interface is functional and aesthetically pleasing, seamlessly integrating with the game's medieval theme. The controls are intuitive, ensuring players can easily adjust settings and initiate spins. Key buttons include:
Coin Value: Adjusts the value of each coin wagered.
Bet Size: Located at the bottom center, players can set their desired bet per spin.
Spin: Positioned prominently, this button sets the reels in motion for a single spin.
Auto-Rotate: Enables automatic spins for a predetermined number of rounds.
Slot Information: Accessible via the three lines icon, it provides details about the game's symbols, payouts, and mechanics.
Mute: Allows players to toggle the game's sound on or off.
Betting ranges from a minimum of £0.15 (or $0.15) to a maximum of £75 (or $75), considering the 15 fixed paylines. This range caters to both casual players and high rollers. The game boasts a maximum win rate that can be significantly amplified with the right combination of symbols and features. With an RTP of 96.50%, "Red Horde" stands competitively against other slots in the market. Its medium volatility ensures a balanced mix of frequent smaller wins and the occasional big payout, making each spin a thrilling experience.
Red Horde Symbols
In "Red Horde", symbols are meticulously crafted to resonate with its medieval-fantasy theme. The game showcases a blend of traditional card symbols and unique character icons rendered in a vibrant, cartoonish style. The animations breathe life into these symbols, celebrating each win with dynamic movements and effects.
Among the most profitable symbols, we find:
Goblin Leader: Depicting the menacing leader of the Red Horde, this symbol can yield significant rewards. Multipliers: 0.50 for 3, 1.00 for 4, and 2.50 for 5.
Knight: Representing bravery and courage, the knight stands as a beacon of hope against the goblin onslaught. Multipliers: 0.15 for 3, 0.15 for 4, and 0.50 for 5.
Villager: This innocent bystander symbolizes the common folk of the medieval village. Multipliers: 0.20 for 3, 0.35 for 4, and 0.75 for 5.
The remaining symbols, including the Ten, Jack, Queen, King, and Ace, are stylized to fit the game's theme. Their multipliers vary, with the Ace ranging from 0.10 for 3 to 0.35 for 5, and the Ten offering 0.03 for 3 to 0.10 for 5.
Special symbols
Special symbols in "Red Horde" are pivotal, offering enhanced winning opportunities and game features. These icons can trigger bonus modes, multipliers, and other unique gameplay elements, unlike regular symbols. In the vast realm of slot games, "Red Horde" stands out with its distinctive special symbols.
Cow Wild: This symbol showcases a cartoonish cow with lively animations. It can substitute for all other symbols, except the scatter, amplifying winning chances. The Cow Wild graces the main and bonus game modes, appearing on all reels. Its presence can significantly alter gameplay dynamics, especially when combined with other symbols.
Scatter (Golden Necklace): Embellished with a precious stone, this symbol is visually and functionally significant. Its animations and sound effects accentuate its importance. The scatter can appear in the main game and Free Spins feature, potentially activating the "Growing Modifiers" feature. While it doesn't directly alter gameplay, its ability to trigger features makes it a sought-after symbol on the reels.
Red Horde Features
Slot features are the heart and soul of any video slot, determining its appeal, replayability, and potential rewards. "Red Horde" by Mascot Gaming is no exception, offering a rich array of features that elevate the gaming experience. These features and the game's captivating theme make "Red Horde" a standout in the vast sea of online slots.
Growing Modifiers Feature
At the core of "Red Horde" is the innovative "Growing Modifiers" feature. This unique mechanic is activated with each non-winning spin, introducing a new win modifier to enhance subsequent spins. The beauty of this feature lies in its progressive nature, where multiple modifiers can accumulate, working in tandem to boost potential winnings.
The mechanics are straightforward yet impactful. All active win modifiers apply together during the next spin's winnings calculation. These modifiers are activated in a predetermined sequence, introducing elements like turning regular symbols into wilds or applying multipliers to winnings. For instance, the Cow, Knight, and Boy symbols can transform into wilds, substituting other symbols to form winning combinations. Additionally, scatter symbols can introduce multipliers of 2x, 3x, or even 5x, amplifying the payout.
The "Growing Modifiers" feature visually maintains the game's medieval charm. The animations, especially when modifiers are activated, are fluid and engaging. The accompanying soundtrack perfectly complements the feature with its blend of suspense and excitement, ensuring players are on the edge of their seats.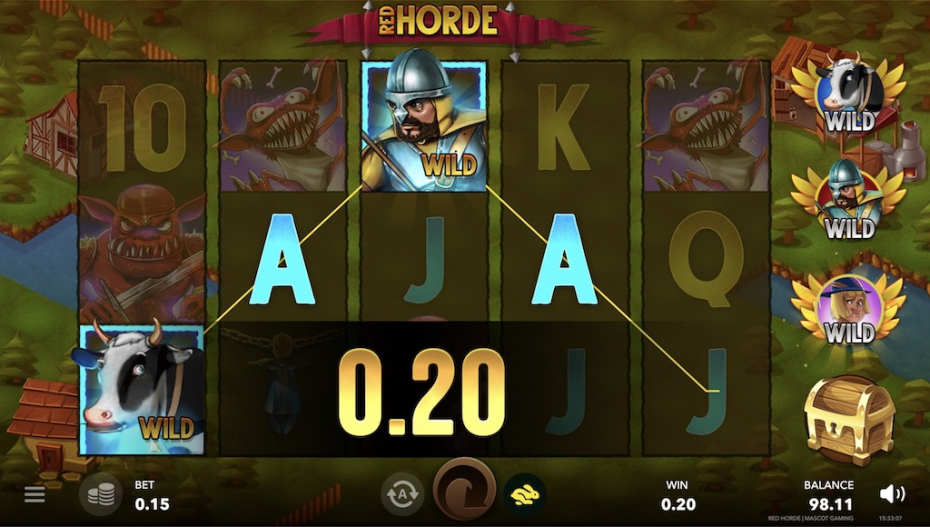 Free Spins Feature
Another highlight of "Red Horde" is the Free Spins feature. Players are triggered by landing three or more scatter symbols and are awarded 10 free spins. What makes this feature particularly enticing is the preservation of active modifiers. Any modifiers active during the triggering of the Free Spins remain throughout the series, enhancing the potential for big wins.
The graphics and sound during the Free Spins mode are consistent with the base game, ensuring a seamless transition. However, the heightened stakes and potential rewards make each spin during this mode feel even more momentous. The possibility of retriggering additional free spins adds another layer of excitement, keeping players engaged and hopeful.
Play Red Horde for real money