Pros and cons
Compatible with iOS and Android.

Unique Risk'n'Buy feature.
Hello Win! Slot Review
Developed by the renowned Mascot Gaming, "Hello Win!" made its captivating debut in October 2023. This slot instantly immerses players into a spellbinding Halloween-themed world, where every spin is an invitation to a mysterious adventure. The game's narrative revolves around iconic Halloween elements, with a seductive witch taking center stage, accompanied by other intriguing characters like a carved pumpkin filled with candies and a mischievous purple witch hat.
The animation quality of "Hello Win!" is a testament to Mascot Gaming's commitment to delivering a premium gaming experience. Vibrant graphics bring Every spin to life, seamlessly blending 2D and 3D elements. Additional animations and video sequences further enhance the gameplay, ensuring players are always on the edge of their seats. Complementing the visuals is an atmospheric soundtrack, echoing the eerie vibes of Halloween. Subtle sound effects and ambient noises further immerse players into this spooky world.
For those familiar with the world of online slots, "Hello Win!" might remind them of other Halloween-themed games like
Halloween Jack
by NetEnt or
Happy Halloween
 by Play'n GO. However, its multi-platform compatibility sets "Hello Win!" apart. Whether you're playing on a desktop or the go using iOS and Android devices, the game's responsive design ensures a seamless gaming experience.
In conclusion, "Hello Win!" is tailored for casual gamers and seasoned slot enthusiasts. Its blend of engaging gameplay, captivating visuals, and immersive sound makes it a must-play for anyone looking to dive into a Halloween-themed adventure.
How to Play Hello Win!
"Hello Win!" offers a classic yet engaging game structure, featuring a 5-reel, 3-row setup with a whopping 243 payways. While standard in many modern slots, this structure is enhanced by the game's thematic elements, ensuring every spin is familiar and fresh. Winning combinations are formed when matching symbols appear anywhere on adjacent reels from left to right, starting from the leftmost reel. This straightforward mechanic ensures that players, whether novices or veterans, can easily grasp the gameplay dynamics.
The user interface of "Hello Win!" is intuitive and aesthetically pleasing. It seamlessly integrates with the game's design, ensuring players are never removed from the immersive Halloween experience. Key control buttons include:
Spin – Represented by a circular arrow, located centrally at the bottom, responsible for initiating a single spin.
Auto Play – Typically an arrow encircling a play symbol, allowing players to set a predetermined number of spins without interruption.
Coin Value – Allows players to adjust the value of each coin they wager.
Bet Size – Enables players to set their preferred bet amount per spin.
Slot Information – Often represented by an 'i' or '?' symbol, providing players with details about paytables, symbol values, and game rules.
Mute – A speaker icon, allowing players to turn off the game's sound.
For those looking to strategize their gameplay, "Hello Win!" offers a bet range from $0.25 to $50. Combined with the game's 243 payways, this range provides ample opportunities for players to tailor their betting strategy. The game boasts a maximum win rate of x1000, ensuring that the potential for massive payouts is always a spin away. With an RTP of 95.06%, "Hello Win!" stands competitively against other slots, offering a favorable return over extended play. Additionally, its medium volatility means players can expect more frequent, albeit smaller, wins, making the gameplay experience exciting and rewarding.
Hello Win! Symbols
Diving into the world of "Hello Win!", players are greeted with many symbols that perfectly encapsulate the Halloween theme. These symbols, meticulously crafted, not only resonate with the game's narrative but also offer lucrative payouts. The animation and design of each symbol are a testament to Mascot Gaming's attention to detail, ensuring that they are both visually appealing and in line with current slot trends.
Among the most profitable symbols, we find:
Seductive Witch – A bewitching figure draped in dark robes, her multiplier values remain a mystery, but her presence on the reels promises significant rewards.
Purple Witch Hat – This iconic Halloween accessory, tinged in a deep shade of purple, carries with it the potential for substantial payouts, though exact multipliers are not specified.
Carved Pumpkin filled with Candies – A delightful blend of spookiness and sweetness, this symbol, while not detailed in terms of multipliers, is undoubtedly a player favorite.
Beyond these standout symbols, "Hello Win!" also features an array of other icons that contribute to the game's atmosphere. These include a potentially dangerous cupcake and card deck letters and numbers. While lower in value, each of these symbols is designed with the same level of care and precision, ensuring that every spin is a visual treat.
Special symbols
Special symbols in "Hello Win!" amplify the gameplay experience. Distinct from regular symbols, they offer unique functionalities that can significantly boost a player's winnings. Compared to other slots, "Hello Win!" boasts a commendable array of special symbols, each promising its rewards.
Wild (Skull) – A haunting depiction of a skull, this symbol is accompanied by subtle animations that bring it to life. It can appear on all reels except the leftmost one, substituting for other symbols to form winning combinations. Its presence is not limited to the primary game mode, as it also graces the reels during bonus rounds. While multipliers and specific sound effects aren't detailed, their pivotal role in the game cannot be understated.
Scatter (Jack-o'-lantern) – A symbolic representation of Halloween, this jack-o'-lantern symbol is more than just a visual treat. Depending on its frequency on the reels, it can unlock the coveted Free Spins feature, enhancing the gameplay experience. While its specific animations and sound effects remain undisclosed, its significance in the game's narrative and mechanics is undeniable.
Hello Win! Features
Slot features are the heart and soul of any modern video slot, and "Hello Win!" is no exception. These features elevate the gameplay experience and offer players the tantalizing prospect of substantial wins. In online slots, the allure of unique features is undeniable. They provide players with opportunities for bigger payouts, engaging mechanics, and immersive graphics and sound. "Hello Win!" stands out in this regard, offering a plethora of diverse and rewarding features, setting it apart from many other slots in the market.
Free Spins Feature
The Free Spins feature in "Hello Win!" is a gateway to a world of potential rewards. Triggered by landing a specific number of Scatter symbols, players can earn up to 25 Free Spins, depending on the number of Scatters they land. While not detailed, the graphics and sound during this mode likely continue the game's eerie Halloween theme, immersing players deeper into its narrative.
The rules of this feature are straightforward: during the Free Spins, landing additional Scatter symbols can award even more spins, allowing players to extend their gameplay without placing additional bets. This feature's potential to restart ensures that players are always on the edge of their seats, eagerly anticipating the next big win.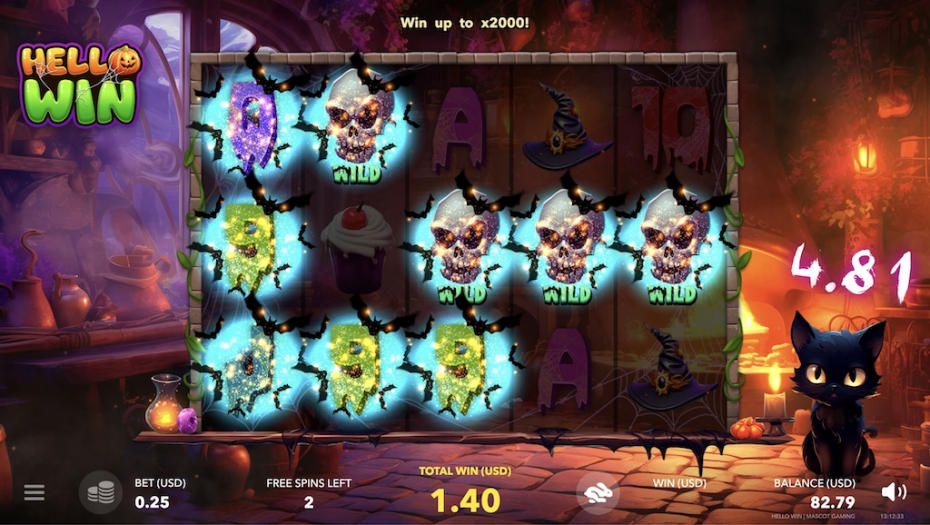 Risk'n'Buy Feature
A standout feature in "Hello Win!", the Risk'n'Buy option offers players a strategic dimension to their gameplay. At any point during the main game, players can either buy Free Spins or risk their current winnings to amplify them. This feature's dual nature allows players to tailor their gameplay strategy, deciding between securing their winnings or taking a gamble for potentially higher rewards. While not specified, the graphics and sound for this feature likely offer a more intense experience, reflecting the high stakes involved. The Risk game, in particular, offers a win multiplier of up to x1000 of the total bet, making it a tempting prospect for those willing to take the risk.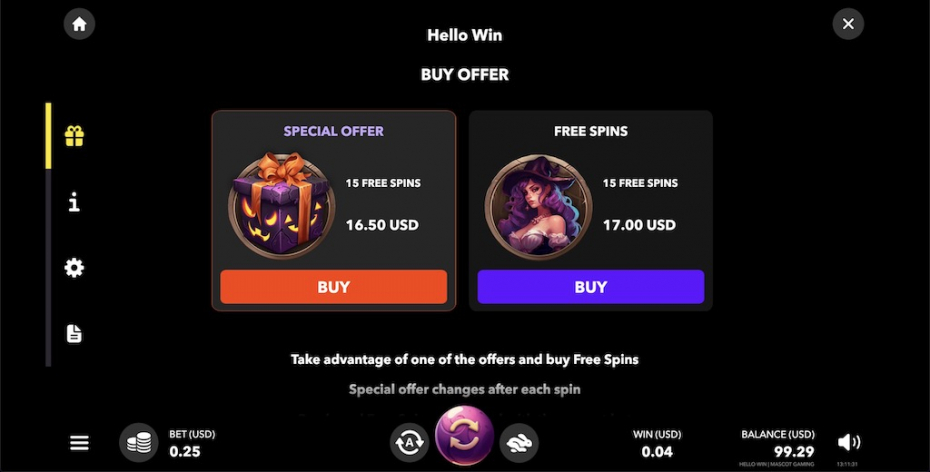 Gamble
Following any winning combination, players can engage a unique feature known as "Gamble" in the Hello Win! slot machine. Players must trigger the bonus wheel's spin using designated buttons in this mode. If the wheel stops on a sector with a multiplier, the initial winnings will be increased by a factor of 2, 3, or 4.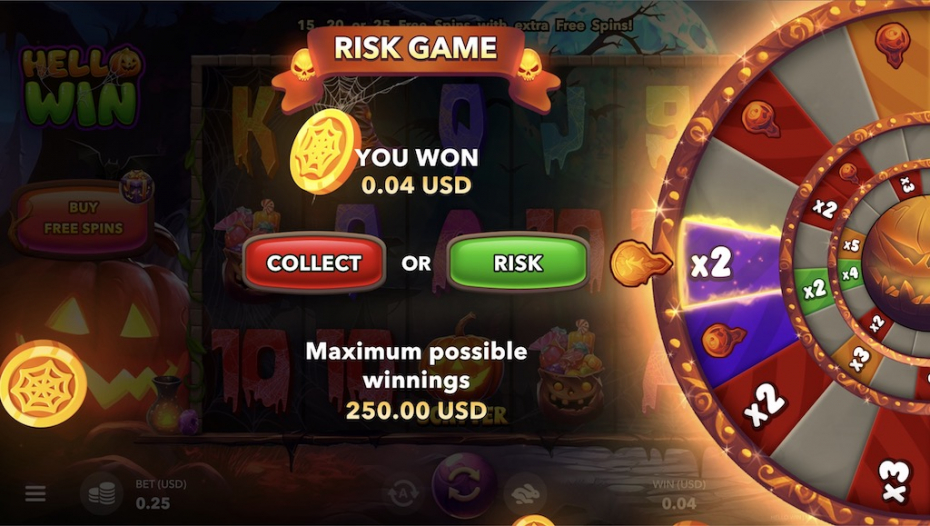 Play Hello Win! for real money