Pros and cons
Wide betting range.

Presence of a progressive jackpot.

Compatible with iOS and Android.

Both-way paylines increase win chances.

Power Wildz and Day 2 Day Jackpots features.
Power Wildz: Fruit Saga Slot Review
Developed by the renowned gaming company Fugaso, "Power Wildz: Fruit Saga" made its electrifying debut in the online casino world in September 2022. This slot game is a harmonious blend of classic fruit slot elements with a modern twist, creating a nostalgic and innovative atmosphere.
As players delve into the game, they are greeted with a vibrant 5×3 grid set against a mesmerizing purple backdrop, reminiscent of an interstellar voyage at lightning speed. The symbols, ranging from lemons and cherries to the standout "Power Wild" symbol represented by a lightning bolt, play pivotal roles in the game's narrative. This Power Wild symbol, in particular, is the game's protagonist, activating special features that enhance the player's chances of striking it big.
The game's animation quality is top-notch, boasting a resolution of 1280×720, ensuring a crisp and immersive gaming experience across devices. The Electric Power WILD symbols add a dynamic touch, though the specifics of whether the animations are 2D or 3D aren't explicitly mentioned. Accompanying the visuals is an electric melody fully immerses players, providing a thrilling vibe throughout the gameplay.
For players who appreciate the theme and content of "Power Wildz: Fruit Saga", similar slots worth exploring include "Electric Avenue" by
Microgaming
and "Electric Sam" by
Elk Studios
. Furthermore, this slot game is multi-platform compatible, ensuring players can enjoy it on iOS and Android devices. In essence, "Power Wildz: Fruit Saga" is tailored for slot enthusiasts who cherish a blend of classic charm with modern features, offering an electrifying gaming experience that keeps players on the edge of their seats.
How to Play Power Wildz: Fruit Saga
Diving into the mechanics of "Power Wildz: Fruit Saga", players are presented with a standard 5×3 grid structure housing 10 fixed paylines. While familiar to seasoned slot players, this structure is enhanced by the game's unique features and electrifying theme. Winning in this slot requires players to land at least three matching symbols in succession, with wins being calculated from both the leftmost and rightmost columns, doubling the excitement.
The "Power Wildz: Fruit Saga" user interface is seamlessly integrated with its electric theme. The design is intuitive, ensuring even newcomers can navigate with ease. Key control buttons include:
Spin Button: Embodied as a circular arrow, located prominently on the right, it sets the reels in motion.
Autoplay: Symbolized by two rotating arrows, this button allows continuous spins without manual intervention.
Turbo Mode: Represented by a lightning bolt, it accelerates the spin speed for a faster gameplay experience.
Bet Selection: Adjust the stake per spin to suit your budget and strategy.
Menu Icon: A three-line icon on the right, granting access to the game's paytable and settings.
While the game doesn't explicitly detail every button, standard slot controls such as coin value adjustment, mute, and slot information are typically present, ensuring players have full control over their gaming experience.
Betting in "Power Wildz: Fruit Saga" starts from a minimum of €0.10, scaling up to a maximum of €50. Given the 10 fixed paylines, this range offers casual players and high rollers flexibility. The game boasts a potential maximum win rate of 3,000x stake, promising substantial rewards for the fortunate. With an RTP of 96%, it stands competitively against other slots in the market. Its medium volatility ensures balanced gameplay, where players can anticipate moderate wins at consistent intervals.
Power Wildz: Fruit Saga Symbols
In "Power Wildz: Fruit Saga", the symbols are a delightful fusion of classic fruit machine icons, revamped with a modern, electric twist. Their vibrant designs and animations echo the game's title and theme, offering a refreshing progression from traditional slots.
Diving into the specifics, the most profitable symbols include:
Flaming 7s: A fiery rendition of the number 7, this symbol can yield substantial rewards with multipliers reaching up to 100x.
BAR: The classic BAR symbol, with potential multipliers of up to 50x.
Grapes: A bunch of luscious purple grapes offering multipliers ranging from 2x to 20x.
Watermelon: A refreshing slice with multipliers spanning from 2x to 20x.
Beyond these high-paying symbols, the game also features other fruit symbols that align with its theme. While not as lucrative as the ones above, the lemon, cherries, orange, and plum symbols still offer enticing multipliers. For instance, the lemon and cherries can fetch multipliers from 1x to 10x, while the orange and plum symbols can provide multipliers from 1x to 15x.
Special symbols
Special symbols in slots often serve as game-changers, introducing unique dynamics that can significantly boost winnings. In "Power Wildz: Fruit Saga", the special symbols are no exception, playing pivotal roles that set it apart from other slots.
The standout special symbol in this game:
Electric Power WILD – Represented by a captivating lightning bolt. The symbol comes alive with electrifying animations and a surge of energy in its sound effects. This symbol can make its presence felt on the 2nd, 3rd, and 4th reels. The Power Wild graces the main game mode, introducing re-spins and expanding across reels to enhance winning possibilities. The true power of the Power Wild is unleashed when it triggers the Power Wildz feature. Its appearance guarantees re-spins, and if another Power Wild graces the reels during a re-spin, the process repeats, amplifying the chances of striking big wins.
Power Wildz: Fruit Saga Features
"Power Wildz: Fruit Saga" is not just another fruit-themed slot; it's a game that offers many features, making it stand out in the crowded world of online slots. These features enhance the gameplay and significantly boost the potential for wins, making every spin an adventure filled with anticipation.
Power Wildz Feature
This feature is a testament to the game's commitment to providing an electrifying experience. The feature is activated when one or more Power Wild symbols appear on reels 2, 3, or 4. The Power Wild symbols then expand to cover the entire reel, creating a visual spectacle of electric energy.
But the excitement doesn't stop there. These expanded wilds remain in place while the other reels re-spin. If a new Power Wild graces the reels during this re-spin, it too grows and holds its position, triggering another re-spin. This chain reaction of re-spins can continue, amplifying the chances of landing a significant win. The graphics and sound accompanying this feature are thrilling, with the electric theme emerging.
Day 2 Day Jackpots
Another feature that deserves special mention is the Day 2 Day Jackpots. Progressive jackpots have always been a favorite among slot enthusiasts, and "Power Wildz: Fruit Saga" offers this in a unique way. These jackpots grow with every real money spin, with a portion of the bet being added to the jackpot pool. The game contributes varying percentages of the stake to three jackpots: Mini, Midi, and Maxi.
The amounts of these jackpots are prominently displayed, adding to the excitement. Players spinning in real money mode can randomly win one of these jackpots, making every spin a potential jackpot-winning spin. The graphics showcasing the growing jackpot amounts on the left-hand side of the game screen serve as a constant reminder of the riches that await.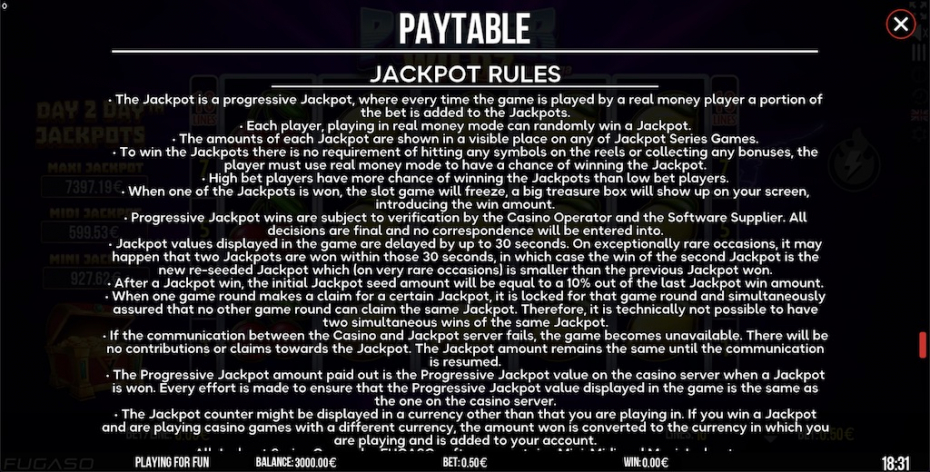 Play Power Wildz: Fruit Saga for real money