Pros and cons
Larger 7x7 grid size.

Supports multiple platforms.

Free Spins Mode.
Limited betting range €0.20 to €20.
Sugar Drop Slot Review
Fugaso (Future Gaming Solutions) unveiled a delightful addition in August 2022: the "Sugar Drop" video slot in the ever-evolving world of online slots. This game transports players into a whimsical world of sweets, where vibrant colors and imaginative designs reign supreme. The backdrop, a multi-colored scene with floating clouds and rising bubbles, sets the stage for a magical Candy Land adventure. The narrative centers around various candies and fruits, with grapes, apples, bananas, strawberries, jellies, donuts, and cakes playing pivotal roles in this sugary saga.
The game's animation quality is nothing short of impressive. With a 3D design, candies and fruits slide smoothly through the reels, ensuring a visually captivating experience. The auditory elements further enhance the gameplay. A light, relaxing background melody, punctuated by popping candy sounds and chirping birds, creates an immersive soundscape. For those familiar with the slot universe, "Sugar Drop" might evoke memories of
Candy Crush
by King or
Sweet Bonanza
 by Pragmatic Play, both of which share a similar thematic essence.
One of the standout features of "Sugar Drop" is its multi-platform compatibility. Whether you're on a desktop, tablet, or smartphone, the game adjusts seamlessly, ensuring an optimal gaming experience. Given its enchanting design, engaging gameplay, and innovative features, "Sugar Drop" is a must-try for slot enthusiasts, especially those with a penchant for vibrant, candy-themed adventures.
How to Play Sugar Drop
Navigating the "Sugar Drop" slot is an experience that blends simplicity with innovation. The game structure is slightly unconventional, boasting a 7-reel, 7-row grid. Unlike traditional slots, "Sugar Drop" employs a cluster pay mechanism. Instead of relying on paylines, players achieve wins by landing groups of matching symbols horizontally or vertically adjacent to each other. This unique approach offers both challenges and advantages. While it might take a moment for traditional slot players to adjust, the cluster mechanism provides more dynamic winning opportunities.
To secure a win, players must match blocks of at least five identical symbols horizontally or vertically. The user interface is intuitively designed, ensuring players can easily navigate and adjust settings. The design seamlessly integrates with the game's candy theme, making the gameplay even more immersive.
Control Buttons:
Bet Up/Down Arrows: Adjust the bet level below the reels.
Spin Button: Initiates a spin and can also speed up the ongoing spin.
Autoplay: Sets a predetermined number of spins to run automatically.
Buy Free Spins: Grants immediate access to the Free Spins feature at a certain cost.
Menu Button: Accesses game information and history.
Coin Value & Bet Size: While specific details weren't provided, these buttons typically allow players to adjust the coin denomination and total bet amount.
Mute: Toggles the game's sound on or off.
Betting options are versatile, with a total bet range from €0.20 to €20 per game. The game's maximum win potential is a staggering 10,000x the bet in the base and bonus games. Regarding Return to Player (RTP), "Sugar Drop" offers a competitive 96%, which slightly increases to 96.20% when using the BUY FREE SPINS feature. This places it on par with many popular slots in the market. Additionally, players should be prepared for a high volatility ride, promising potentially significant wins but requiring patience and a strategic bankroll management approach.
Sugar Drop Symbols
The symbols in "Sugar Drop" are a harmonious blend of the game's candy theme, echoing the title in both design and animation. While rooted in the classic slot tradition, these symbols have been given a modern twist, making them both nostalgic and innovative. The game's symbols testify to its progression from classic slots, offering players a fresh yet familiar experience.
High-Value Symbols:
Grapes: Luscious purple grapes with multipliers ranging from 0.20x for smaller combinations to a whopping 60x for larger clusters. For instance, a maximum combination could yield a potential win of €1,200 on a €20 bet.
Apples: Fresh green apples offering multipliers from 0.25x to 40x.
Bananas: Ripe yellow bananas with multipliers spanning from 0.30x to 60x.
Strawberries: Vibrant red strawberries with multipliers between 0.40x and 80x.
Players can expect to encounter colorful jellies, delicious chocolate doughnuts, and delectable cakes for the remaining symbols. These symbols come with their respective multipliers, ensuring players have ample opportunities to secure wins.
Special symbols
Special symbols in slots often serve as game-changers, providing players with enhanced winning opportunities and unique gameplay features. In "Sugar Drop", these symbols are no exception. They stand out not just in appearance but also in their roles, offering distinct advantages compared to regular symbols.
Gift Box (Wild): This festively wrapped yellow box with a violet ribbon is more than just a visual treat. When it appears on the reels, it can substitute for all other symbols, except the scatter, amplifying winning potential. The wild can come with a multiplier, starting at x2 and potentially soaring up to x256, significantly boosting payouts. Whether in the main game or bonus rounds, this symbol can dramatically alter the gameplay, especially when it's part of multiple cluster combinations.
Cupcake (Scatter): A delectable cupcake that does more than just satiate your sweet tooth. This symbol can appear anywhere on the reels, and when it does, it brings the promise of free spins and multipliers. Its presence enhances the game's visual appeal and winning potential, especially when it triggers the coveted Free Spins feature.
Sugar Drop Features
Slot features are the heart and soul of any game, determining its appeal, replay value, and potential rewards. "Sugar Drop" is no exception, offering a suite of features that enhance the gameplay and elevate the winning potential. Unlike other slots, "Sugar Drop" stands out with its diverse and innovative features, ensuring players are always on the edge of their seats.
Drop Down Reels Feature
This feature is a testament to the game's innovative spirit. Activated after every spin that results in a winning combination, the winning symbols link, pay out, and then vanish. The remaining symbols cascade down, and new ones drop from the top to fill the void. This can lead to a chain reaction of wins, all within a single spin, offering players a dynamic and potentially rewarding experience.
Random Wild Multiplier Feature
A feature that can turn the tide of the game in an instant. When a cluster of symbols explodes and disappears, there's a chance a Wild symbol might take its place. But this isn't just any Wild; it comes with a multiplier. Starting at x2, this multiplier can grow with each appearance, potentially reaching a staggering x256. This feature can amplify wins, especially when the Wild is part of multiple winning clusters.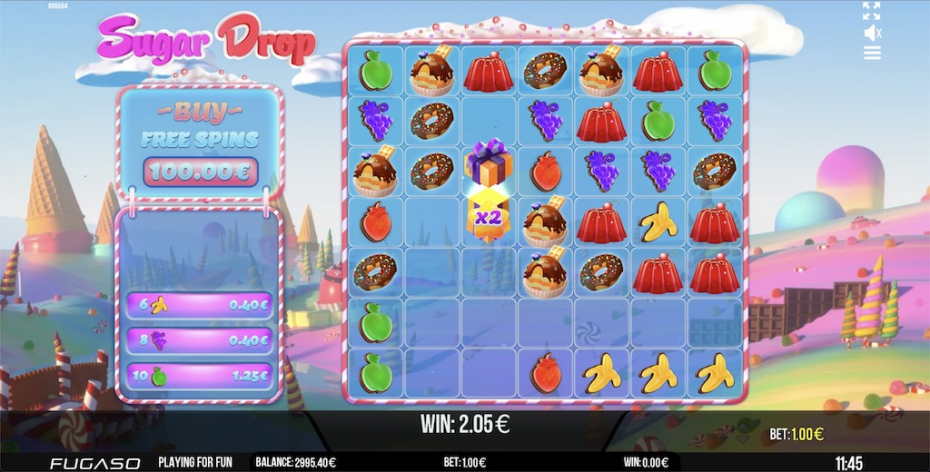 Free Spins Feature
A staple in many slots, but with a unique twist in "Sugar Drop". Triggered by three or more Scatter symbols, players can earn up to 25 free spins. But the real magic happens during these spins. The Random Wild Multiplier feature is activated, and when a Wild appears, it starts with a x3 multiplier. This multiplier can grow, reaching up to x729, offering players a chance at monumental wins. And if that wasn't enough, landing additional Scatters during the Free Spins can retrigger more spins, prolonging the excitement. There is also an option to purchase a bonus game.
Play Sugar Drop for real money