Pros and cons
High RTP 97%

Minimum total bet size of $0.1

Presence of Free Spins

Progressive Jackpots available
Only 10 paylines

Few slot features
Book of Anime Slot Review
In the bustling realm of online slots, Fugaso, a renowned developer, unveiled its masterpiece, "Book of Anime," in September 2022. This slot, characterized by its captivating design, immerses players into a magical world reminiscent of the most beloved Japanese anime tales. The narrative revolves around the enigmatic world of anime, with the Book icon and various anime characters taking center stage. These characters add depth to the storyline and play pivotal roles in influencing the player's fortunes.
The slot's animation quality is a visual treat. While the specifics of whether it's 2D or 3D aren't explicitly mentioned, the magical visuals suggest a high-quality graphic experience. The enchanting backdrop music is complemented by the visuals, setting the perfect tone for an anime-themed adventure.
Drawing parallels, slots like
Koi Princess
by NetEnt and
Sakura Fortune
 by Quickspin also resonate with the Asian and anime themes, offering players a similar atmospheric experience.
Furthermore, the multiplatform nature of "Book of Anime" ensures that players can embark on this adventure across various devices, enhancing its accessibility.
In summary, "Book of Anime" is tailored for slot enthusiasts who have an affinity for anime and those seeking a fresh thematic experience in the slot universe. The game's intricate design and compelling narrative position it as a must-try for seasoned players and newcomers alike.
How to Play Book of Anime
Diving into the mechanics of "Book of Anime," players are greeted with a traditional game structure that features 5 reels, 3 rows, and 10 paylines. This standard setup ensures familiarity for seasoned players while being straightforward for newcomers. Winning in this slot requires players to align symbols in specific patterns, with the direction and number of symbols playing a crucial role in determining the payout.
The user interface seamlessly integrates with the game's design, ensuring functionality and aesthetic appeal. Players can effortlessly navigate the game, making their experience smooth and enjoyable.
Control Buttons:
Bet Amount Selection: Players can adjust their desired bet amount using up and down arrows.
Spin: Initiates the spinning of the reels.
Auto Spin: Allows for continuous spins without manual intervention.
Coin Value: Adjusts the value of the coin being wagered.
Bet Size: Determines the total amount staked per spin.
Slot Information: Provides insights into paytables, symbol values, and game rules.
Mute: Offers players the option to turn off the game sounds.
The betting range is flexible, accommodating both high-rollers and casual players. With a minimum bet of $0.10 and a maximum of $100, players can adjust their stakes based on their strategy and comfort.
The allure of a maximum win rate of 5000x the bet heightens the game's appeal, promising substantial rewards. Furthermore, with an RTP of 97%, "Book of Anime" stands out, especially when the industry average hovers around 96%. The game's high volatility ensures that while wins might be infrequent, they are significant when they do occur.
Book of Anime Symbols
Symbols in "Book of Anime" are meticulously crafted, echoing the game's title and theme. Each icon is a testament to the anime world, blending traditional slot symbols with the vibrant and colorful world of Japanese animation. The innovation in symbol design and animation sets "Book of Anime" apart, marking a progression from classic slots to a more thematic and immersive experience.
Key Symbols:
Anime Heroine: Depicting the main character of our story, this symbol offers substantial multipliers. While exact values aren't provided, it's evident that aligning this symbol can lead to significant rewards.
Antagonist: Another character from the plot, this symbol, too, holds value, promising players decent payouts.
Allies: These symbols represent the supporting characters in our anime tale, each carrying its multiplier value.
While not detailed individually, the remaining symbols are consistent with the game's theme. Each carries a specific multiplier, influencing the player's winnings based on their alignment and frequency on the reels.
Special symbols
Special symbols in "Book of Anime" play a pivotal role, offering players enhanced winning opportunities. Distinct from regular symbols, they introduce unique gameplay elements, making the slot experience more dynamic. The presence of these symbols, especially in a game like "Book of Anime," is a testament to its modern design approach.
Book of Anime Features
Slot machine features are the heart and soul of any game, determining its replay value and attractiveness to players. In "Book of Anime," the features are numerous and diverse, offering players many ways to win. Compared to other slots, the variety and uniqueness of features in this game are commendable, ensuring that players are always on the edge of their seats.
Free Spins Mode
This mode is a highlight of the game. Triggered by landing three or more Scatter symbols, players are transported to a special round where they are awarded 10 free spins. The graphics and sound during this mode are enhanced, immersing players into the anime world. A unique aspect of this mode is introducing an expanding symbol, which can cover an entire reel, significantly boosting winning chances. The potential to retrigger additional free spins within this mode adds another layer of excitement.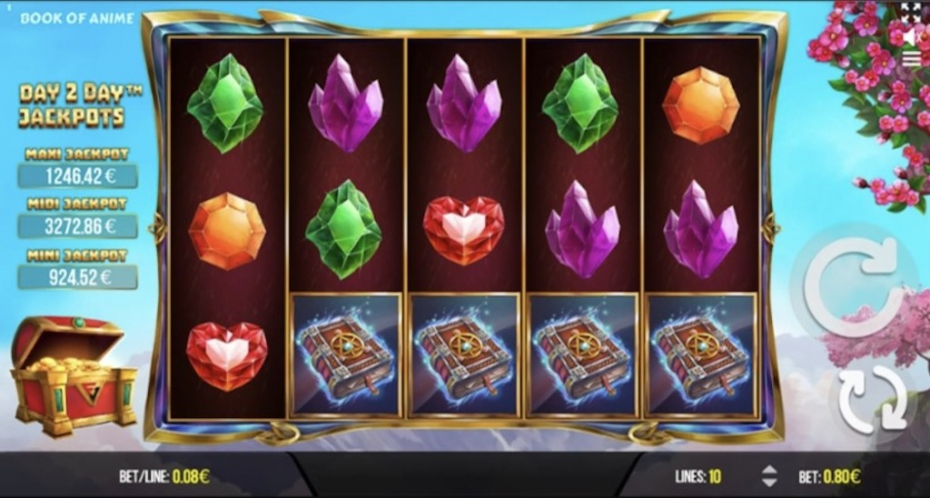 Progressive Jackpots
A feature that stands out in "Book of Anime" is the presence of three progressive jackpots: Maxi, Midi, and Mini. These jackpots accumulate over time, allowing players to win substantial amounts. The randomness of these jackpots ensures that every spin holds the potential for a significant payout, keeping players engaged and hopeful.
Book Symbol as Wild and Scatter
Play Book of Anime for real money