Pros and cons
Multi-platform compatibility.

Adjustable paylines option.

Three progressive jackpots.

Grid size 5x4.
Low RTP 95.05%.

Only 40 paylines.

Max bet size $40.

No Free Spins feature.
Stoned Joker Slot Review
Developed by Fugaso, the Stoned Joker slot was released in 2019. This video slot transports players into a vibrant world where classic fruit symbols meet contemporary design. The game's atmosphere is a harmonious blend of traditional slot elements with a modern twist, evident in its colorful graphics and engaging animations. The plot revolves around the main character Joker, who brings a playful and mischievous vibe to the game. Accompanying him are classic fruit symbols, each with its unique role in bringing wins to the player.
The animation quality of Stoned Joker is 2D, but it doesn't fall short in terms of engagement. The game boasts additional animations and video sequences that enhance the gaming experience. The sound design perfectly complements the game's theme, with a mix of classic slot machine sounds and modern music. Players can also hear distinct sound effects and voices that add depth to the gameplay.
For players who appreciate the theme and content of Stoned Joker, similar video slots worth exploring include "Fruit Zen" by
Betsoft
and "Fruitoids" by
Yggdrasil
. One of the standout features of Stoned Joker is its multi-platform compatibility, ensuring players can enjoy the game on various devices, from desktops to mobiles.
In conclusion, Stoned Joker targets traditional slot enthusiasts and new-age players, offering a blend of classic and contemporary elements that cater to a wide audience.
How to Play Stoned Joker
Stoned Joker features a standard game structure with 5 reels, 4 rows, and 40 adjustable paylines. While familiar to many, this structure offers flexibility in betting strategies, allowing players to choose the number of active paylines. Players must align symbols from left to right to secure a win, with at least three identical symbols on an active payline.
The user interface is intuitive, seamlessly integrating with the game's design. It offers players easy access to all essential functions, ensuring a smooth gaming experience. Here's a breakdown of the main control buttons:
Coin Value: Adjusts the value of the coin.
Bet Size: Sets the total bet amount per spin.
Spin: Initiates a single spin of the reels.
Auto-rotate: Enables automatic spins for a predetermined number of rounds.
Slot Information: Provides details about the game, paytable, and rules.
Mute: Turns the game sound on or off.
The betting range in Stoned Joker is diverse, accommodating both low and high rollers. With adjustable paylines, players can modify their bets according to their preferences. The game boasts a maximum win rate that can lead to substantial payouts. Regarding Return to Player (RTP), Stoned Joker stands at a competitive edge compared to other slots in the market. Additionally, its medium volatility ensures a balanced mix of frequent smaller wins and occasional big wins.
Stoned Joker Symbols
Stoned Joker offers a delightful array of symbols that resonate with its title and theme. The symbols are a modern take on classic slot icons, with a touch of innovation that sets the game apart from traditional slots. Among the most profitable symbols are:
Watermelon: Depicted as a juicy slice, multipliers of 40x to 200x, with a maximum win of 8000 coins for five on a payline.
Grapes: A bunch of purple grapes, multipliers ranging from 20x to 160x, leading to a potential win of 6400 coins for five aligned.
Lucky Seven: The iconic red number multipliers from 80x to 400x, offering a whopping 16000 coins for five on a payline.
Other symbols in the game include lemons, cherries, and plums, each with distinct multipliers, adding variety and potential wins for players.
Special symbols
Special symbols in Stoned Joker play a pivotal role in enhancing the gameplay. They offer unique features and benefits that set them apart from regular symbols. Stoned Joker boasts many special symbols that amplify the winning potential compared to other slots.
Wild (Joker): With its mischievous grin, the Joker symbol acts as the wild. It comes alive with animations and sound effects when forming winning combinations. This symbol can replace all other symbols except the scatter on all reels. It plays a crucial role in the main game mode, enhancing the chances of forming winning combinations.
Scatter (Marijuana): Represented by the Cannabis sign, this symbol is accompanied by distinct animations and sound effects. It offers payouts regardless of its position on the reels and can appear on any reel. While it doesn't activate any bonus modes, its presence significantly influences the gameplay by offering substantial multipliers.
Stoned Joker Features
Stoned Joker stands out for its features that promise entertainment and impressive wins. The game's features are diverse and abundant compared to other slots, ensuring players remain engaged and have multiple opportunities to boost their winnings.
Gamble Feature
A standout feature in Stoned Joker is the gamble option. After securing a win, players have the choice to gamble their winnings. This feature transports players to a card-guessing mini-game. Here, they must predict whether the next card drawn will be red or black. A correct guess doubles the winnings, while an incorrect one results in a loss. This feature offers a blend of risk and reward, allowing players to potentially multiply their winnings. The graphics during this mode are sharp, and the sound effects add to the suspense, making it a thrilling addition to the game.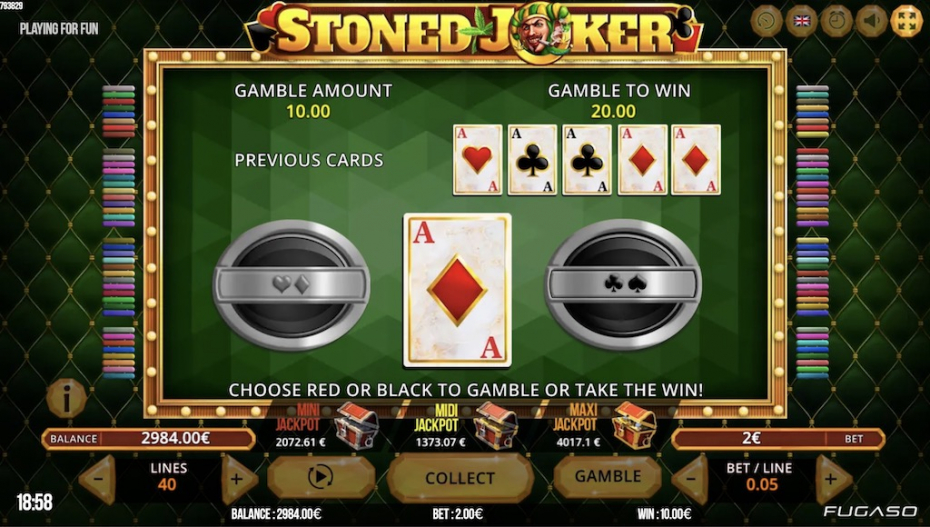 Progressive Jackpots
The allure of hitting the jackpot is undeniable, and Stoned Joker ups the ante with three progressive jackpots: Mini, Midi, and Maxi. These jackpots grow over time, with a portion of each bet contributing to the pool. Players can strike gold and win these jackpots randomly during their spins. The graphics during this feature are captivating, with a treasure chest revealing the win amount, and the accompanying sound effects heighten the excitement.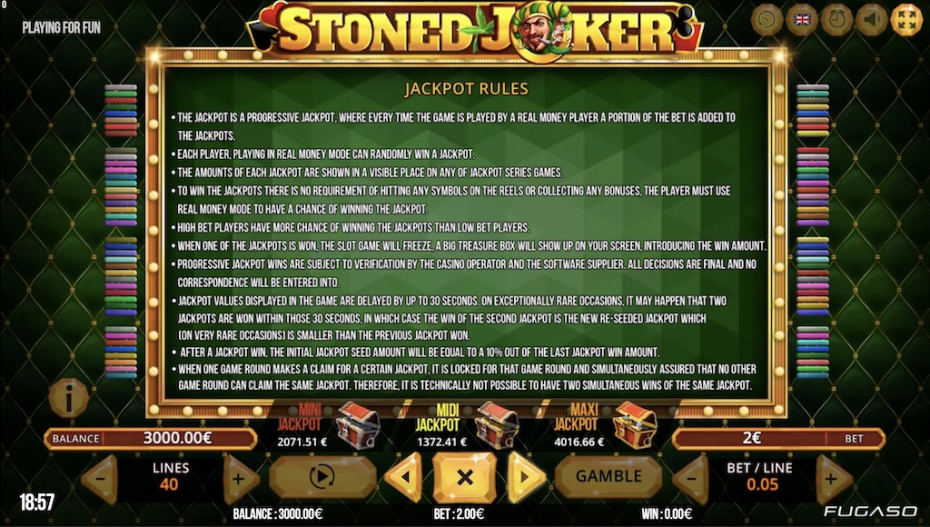 Play Stoned Joker for real money