Pros and cons
Wide betting range from €0.25 to €62.50

Three engaging slot features

Trio of special symbols

Playable on iOS and Android
Limited to 25 paylines

Maximum win capped at 1,250x bet
Lucky Bakery Slot Review
Whisk yourself away to the charming streets of Paris with Foxium's delightful release, Lucky Bakery. Unveiled in May 2017, this slot game invites players to a quaint corner of the City of Lights, where pastries and potential payouts abound. The design of Lucky Bakery is a sweet concoction of Parisian chic and whimsical animation, creating an inviting and immersive atmosphere. The plot centers around a cheerful baker, the main character, who stands beside the reels, ready to guide players through a delectable gaming experience.
The animation in Lucky Bakery is smooth, with the reels set against a backdrop of a picturesque Parisian street. Additional animations sprinkle the gameplay with charm as symbols come to life with each winning combination. The sound design complements the visual feast with a light-hearted soundtrack that captures the essence of a bustling French bakery, with the sound effects of sizzling pastries and the baker's occasional hums and whistles.
For those who savor the flavor of Lucky Bakery, similar slots include Baker's Treat by
Play'n GO
and Sugar Parade by
Microgaming
, both of which serve up a delightful blend of confectionery-themed fun.
Lucky Bakery is fully optimized for mobile play, ensuring that iOS and Android users can enjoy this sweet slot on the go.
The target audience for Lucky Bakery is broad, appealing to casual slot players who enjoy light-hearted themes, as well as more seasoned players drawn to the game's array of features and bonuses. With its charming theme and engaging gameplay, Lucky Bakery is a treat for any slot enthusiast looking for a dash of Parisian flair in their gaming experience.
How to Play Lucky Bakery
Embark on a culinary adventure with Lucky Bakery, a game that boasts a standard yet enticing structure of 5 reels, 3 rows, and 25 fixed paylines. The game's structure adheres to traditional slot layouts, which offers familiarity to seasoned players while still being accessible to newcomers. Winning in Lucky Bakery requires lining up symbols from left to right, with various sweet treats and card symbols that need to be matched along the paylines.
The user interface of Lucky Bakery is as intuitive as it is integrated into the game's design, ensuring that players can easily navigate through the game without breaking the immersive experience. The control buttons are cleverly crafted to blend with the game's bakery theme, featuring:
Coin Value Adjustment: Resembling a bag of flour, this button allows players to modify their bet size.
Bet Size: A golden coin stack indicating where to adjust the overall wager.
Spin: Designed as a bakery's oven timer, this button starts the game.
Auto-Play: A tray of cookies represents this feature, where players can set a predetermined number of automatic spins.
Slot Information: Like a baker's recipe book, a menu provides access to paytables and game rules.
Mute: A bell which players can ring to toggle the sound on or off.
The betting range in Lucky Bakery is designed to cater to a wide audience, with minimum bets starting at €0.25 and capping at €62.50 per spin. Combined with the fixed paylines, this range simplifies the betting process and allows players to adjust their stakes to their comfort level easily.
The maximum win rate of a sweet 1,250 times the bet value, an RTP (Return to Player) of 96.02%, and medium volatility, positions Lucky Bakery as an appealing choice for players looking for balanced gameplay. The RTP is competitive, aligning with industry standards and ensuring players have a fair chance of winning. The medium volatility means that wins are moderately frequent and of average size, striking a balance between risk and reward.
Lucky Bakery Symbols
The symbols of Lucky Bakery are a delightful array of confectionery that not only echo the title and theme but also bring a modern twist to the classic slot symbols. Each symbol is crafted with meticulous attention to detail, boasting vibrant colors and playful designs that animate with a flourish upon winning. This slot doesn't just stick to the status quo; it elevates the experience with symbols that reflect the progression from classic slots to a more thematic and engaging era of slot games.
The most profitable symbols in Lucky Bakery exclude the special ones and are as follows:
Lucky Baker: The cheerful chef, offering multipliers of 4x, 10x, and 20x for combinations of 3, 4, and 5 symbols, respectively.
Chocolate Cake: A decadent dessert, yielding 1.6x, 4x, and 8x the bet for 3, 4, and 5 matching symbols.
Croissants: A flaky French staple that returns 1.2x, 3x, and 6x for the same combinations.
Waffles: A sweet breakfast favorite, rewarding players with 1x, 2.4x, and 5x multipliers.
Cupcake: A petite treat, giving multipliers of 0.8x, 2x, and 4x.
While not as lucrative, the rest of the symbols still contribute to the game's charm and potential for wins. These include the card symbols – Ace, King, Queen, Jack, and Ten – designed as candy cane sweets and offer lower multipliers ranging from 0.2x to 4x, depending on the symbol and number of matches. Each symbol is an integral part of the game's Parisian bakery theme, adding to the overall sweet experience of Lucky Bakery.
Special symbols
In Lucky Bakery, special symbols play a pivotal role in the gameplay, offering players unique opportunities to sweeten their winnings. These symbols stand out from the regular ones in appearance and function, often triggering bonus features or acting as multipliers. Compared to other slots, Lucky Bakery offers a balanced number of special symbols, each designed to complement the game's theme and enhance the player's experience.
The special symbols of Lucky Bakery include:
Wild (Chef's Hat): Adorned with the baker's hat, this symbol can substitute for any other symbols except the scatter to complete winning combinations. It animates with a puff of flour when part of a win, and its appearance is limited to the main game mode, appearing on all reels except the scatter-designated ones.
Scatter (Box of Chocolates): This symbol is key to unlocking the Free Spins feature. Illustrated as a tempting box of chocolates, it triggers the bonus mode when three appear on the reels. The scatter symbol is accompanied by a jingle that heightens the anticipation of the free spins, and it only appears on reels 1, 3, and 5.
Surprise Multiplier Wild: A special variation of the wild, this symbol can randomly appear with a multiplier value, enhancing the payout of any winning lines it's part of. It's distinguished by a golden glow and a tinkling sound effect, adding a touch of excitement to the reels it lands on.
Lucky Bakery Features
Lucky Bakery by Foxium is not just a visual treat; its features are the icing on the cake, providing layers of excitement and potential rewards. The slot machine's features are a testament to Foxium's commitment to creating engaging and dynamic games. They offer a variety of ways to win and add depth to the gameplay, making each spin a potential gateway to sweet victories.
Free Spins
The Free Spins mode is a highlight of Lucky Bakery, activated when three scatter symbols land on the reels. Players are transported to a night-time Parisian scene, where the baker stands by to add multipliers to non-winning spins. This mode enhances the game's atmosphere with its night-time graphics and the potential for increasing multipliers, which can escalate up to 6x the stake, offering players the chance to boost their winnings significantly.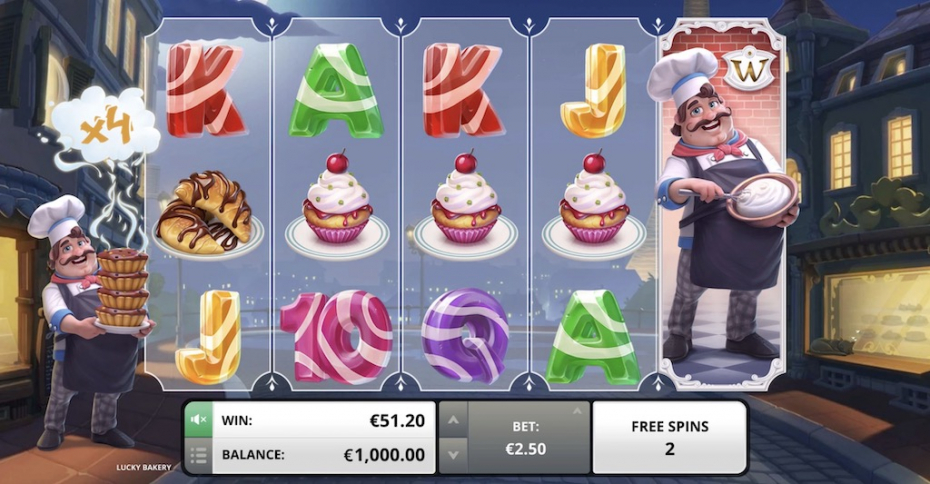 Shuffle Feature
This feature can randomly trigger on non-winning spins in the base game. It shuffles the symbols on the reels, creating a new chance for a winning combination. The anticipation builds as the symbols are mixed, and the potential for a win from a previously losing spin adds an element of surprise and excitement to the game.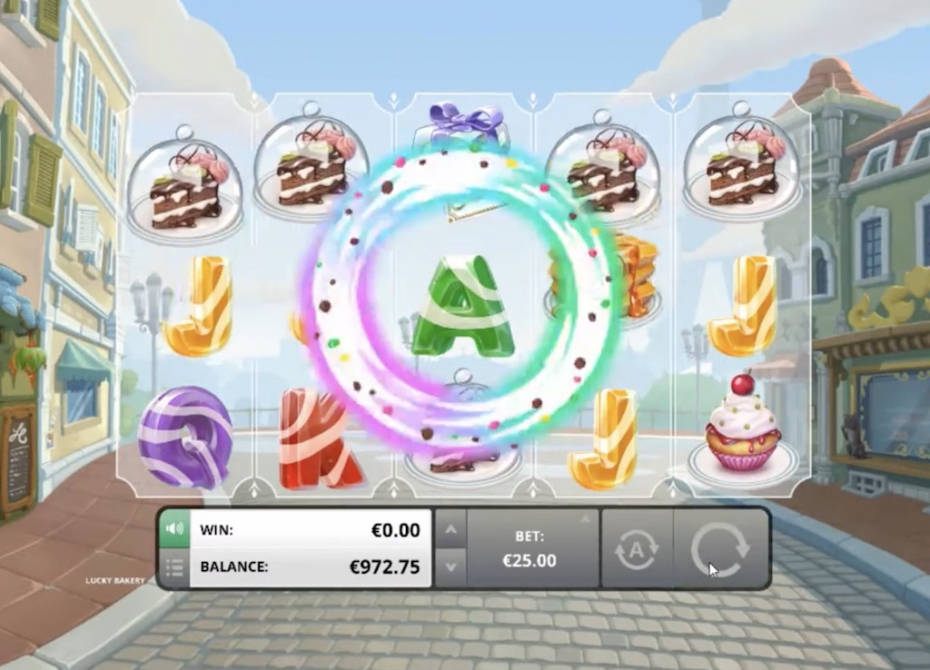 Play Lucky Bakery for real money