Pros and cons
High RTP at 97%.

Expanded grid of 5x4.

Supports iOS and Android.

Features Free Spins.
Wild Spirit Slot Review
Dive into the mystical realm of Native American culture with the "Wild Spirit" slot, a captivating creation by Mascot Gaming. Released without a specific date mentioned, this slot transports players to an enchanted forest, where the twilight magic of Native American legends comes alive.
The "Wild Spirit" design is a harmonious blend of earthy tones, with a backdrop suggesting a mystical forest. The color palette, dominated by shades of turquoise and brown, evokes a sense of serenity and ancient wisdom. This ambiance is further accentuated by the game's plot, which revolves around key figures of Native American folklore. Players encounter a Native American girl, a symbol of beauty and strength, alongside majestic creatures like the eagle, wolf, and wild pony.
The game's top-notch animation quality employs 3D graphics that breathe life into every symbol and sequence. These animations and additional video sequences ensure an immersive gaming experience. Complementing the visuals is the game's sound design. The ambient soundtrack, enriched with the haunting notes of flutes and drums, creates a mesmerizing atmosphere.
For players who appreciate the theme of "Wild Spirit," other similar slots worth exploring include "Totem Treasure" by
Microgaming
and "Native Treasure" by Cryptologic. Both these slots delve deep into Native American traditions and legends.
"Wild Spirit" is not just limited to desktops; it's multi-platform, optimized for iOS and Android devices, ensuring players can experience the magic on the go. The slot is ideal for those who are intrigued by Native American culture and are in pursuit of high-quality gaming experiences.
How to Play Wild Spirit
"Wild Spirit" is a visual treat and offers a structured gameplay that both novices and seasoned players can easily navigate. The game structure is built on a grid of 5 reels and 4 rows, housing 40 fixed paylines. This standard structure ensures familiarity for regular slot players while the thematic symbols and features add a unique touch.
Winning in "Wild Spirit" requires players to form combinations from left to right, starting from the leftmost reel. The game boasts a variety of symbols, each resonating with the Native American theme and each having its value.
The user interface is seamlessly integrated with the game's design, ensuring that players are not just playing a game but are immersed in a story. Key control buttons include:
Menu Button: A gateway to settings and paytable information.
Autoplay Button: For those who prefer continuous play without interruptions.
+ and – Buttons: To adjust the bet across the 40 lines.
Spin Button: The heart of the game, initiating the spin of the reels.
Max Bet Button: For high rollers who wish to play with the highest stake.
For those keen on strategizing their play, the bet range varies from $0.4 to $20, allowing flexibility in wagering. The game promises a maximum win rate of 5,000x stake, especially during special features. With an RTP of 97%, "Wild Spirit" stands competitively against other slots, offering a higher return potential. The game's high volatility ensures that while wins might not be frequent when they do occur, they are significant, making every spin a thrilling experience.
Wild Spirit Symbols
Symbols in "Wild Spirit" are meticulously crafted, echoing the rich tapestry of Native American culture. The game seamlessly marries tradition with modern slot design, resulting in visually appealing and thematically relevant symbols. The progression from classic slots is evident, with each symbol animated in 3D, adding depth and dynamism to the gameplay.
Key symbols include:
Girl: A representation of a Native American maiden, possibly paying homage to iconic figures like Pocahontas. This symbol not only exudes grace but also offers a multiplier of 25x for maximum combinations.
Wolf: Symbolizing the spirit of the wild, the wolf offers a multiplier of 12.5x for its maximum combination.
Eagle: A majestic bird of prey, the eagle carries a multiplier of 12.5x for its highest combination.
Pony: Depicting the wild spirit of the plains, the pony offers a 10x multiplier for its maximum combination.
The remaining symbols, including the Ace, King, Queen, Jack, and Ten, are standard card symbols, each adorned with Native American motifs to align with the game's theme. While lower in value, these symbols are essential for smaller wins and maintain the game's rhythm. Their multipliers range from 2.5x to 7.5x, depending on the symbol and combination.
Special symbols
Special symbols in "Wild Spirit" are not mere embellishments but game-changers. Distinct from regular symbols, they have the power to transform gameplay, offering enhanced winning opportunities. Compared to other slots, "Wild Spirit" ensures that these symbols are functional and deeply rooted in the game's narrative.
Dreamcatcher (Wild): A symbol of protection in Native American culture, the dreamcatcher in "Wild Spirit" is the wild symbol. Animated with finesse, its appearance on the reels is accompanied by thematic sound effects. This symbol can replace other symbols, except the totem scatter, amplifying winning chances. It's present in the main and bonus modes, appearing on all reels, and plays a pivotal role in forming winning combinations.
Totem Scatter: Totem poles are monumental sculptures in Native American culture, and in "Wild Spirit", the totem scatter is no less significant. With unique animation and sound effects, its appearance on reels 1, 2, and 3 not only awards free spins but also comes with a cash prize, adding depth and excitement to the gameplay.
Wild Spirit Features
Slot machines are not just about spinning reels; it's the features that truly define the gameplay, potential winnings, and overall experience. "Wild Spirit" stands out in this regard, offering a suite of features that align with its theme and promise substantial rewards.
The allure of slot features lies in their unpredictability and the heightened chances of wins they offer. In "Wild Spirit", the features are numerous and diverse, ensuring that players are always on the edge of their seats. Unlike many other slots, "Wild Spirit" offers a balanced mix of features catering to risk-takers and those who play it safe.
Free Spins with Extra Wilds Stacks
One of the most coveted features in any slot game, the Free Spins in "Wild Spirit" comes with a twist. Triggered by landing three Scatter symbols, players are awarded 10 free spins. But that's not all. With every spin, an additional Wild symbol is added to the reels, creating stacks of Wild symbols. This increases the chances of forming winning combinations and amplifies the potential rewards. The ambiance during this mode intensifies, with the graphics and sound effects taking a dramatic turn.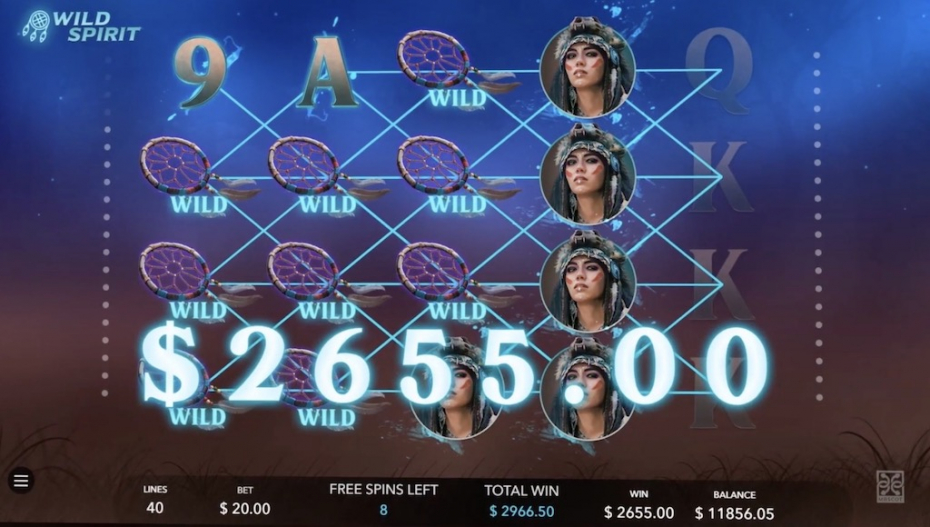 Play Wild Spirit for real money