Pros and cons
Multiple slot features available

Split Symbols Feature
Lower RTP of 95.23%

Only 15 paylines available
Double Triple Fruits Slot Review
Mascot Gaming, a prominent figure in the world of online slots, unveiled their latest creation, "Double Triple Fruits," in July 2022. This slot game is a harmonious blend of classic fruit machine aesthetics with modern-day gaming features. The vibrant design has a backdrop that exudes a retro feel, reminiscent of traditional fruit machines. The plot revolves around various fruits, each with its unique character and role. From strawberries and oranges to kiwis and pineapples, each fruit symbolizes the essence of classic slots while offering a fresh twist.
The game's animation quality is visually appealing, with symbols that slide smoothly along the reels and are set against an exotic jungle forest backdrop. While the review doesn't explicitly mention whether it's 2D or 3D, additional animations, especially during the Double-Triple feature, add a dynamic visual element to the gameplay. The sound design perfectly complements the game's theme, with natural jungle sounds combined with calm music, creating an exotic and adventurous gaming atmosphere.
For players who appreciate the theme of "Double Triple Fruits," other similar slots worth exploring include "Fruit Zen" by
Betsoft
and "Fruit Shop" by
NetEnt
. Both games offer a fruit-themed experience with unique features and gameplay mechanics.
"Double Triple Fruits" is built using HTML5 technology, ensuring seamless gameplay across various platforms, including desktops, tablets, and smartphones. In essence, this slot is designed for players who cherish the nostalgia of classic slots but crave modern gaming innovations.
How to Play Double Triple Fruits
"Double Triple Fruits" offers a structured gameplay experience with a grid that comprises 5 reels, 3 rows, and 15 fixed paylines. This structure is fairly standard in slots, providing a familiar layout for seasoned players while being intuitive enough for newcomers. The game rewards players for forming combinations from left to right, starting from the leftmost reel. A minimum of three matched symbols is required to secure a win, with the potential for even greater rewards when leveraging the game's unique features.
The user interface is meticulously designed to integrate seamlessly with the game's theme. It's functional and aesthetically pleasing, ensuring players can easily navigate and adjust settings as needed. Here's a breakdown of the primary control buttons:
Spin: Initiates a single spin of the reels.
Auto Play: Allows players to automate a predetermined number of spins.
Bet +/-: Adjusts the bet amount per spin.
Max Bet: Sets the wager to the maximum allowable amount for a single spin.
Slot Information: Provides details about the game, including paytable and rules.
Mute: Toggles the game's sound on or off.
The betting range in "Double Triple Fruits" is quite flexible, accommodating casual players and high rollers. Bets can range from a minimum of 0.15 USD to a maximum of 30 USD. The game's RTP (Return to Player) stands at 95.23%, slightly below the industry average, but the unique features compensate by potentially increasing winning amounts. Regarding volatility, the game leans towards the lower end, implying more frequent, albeit smaller, wins.
Double Triple Fruits Symbols
The "Double Triple Fruits" symbols are a delightful blend of classic and contemporary. Echoing the game's title, the symbols are predominantly fruit-themed, with each fruit meticulously designed to capture its essence. The animations accompanying these symbols are smooth, adding a dynamic touch to the gameplay. This slot's symbols are a testament to how Mascot Gaming has innovatively evolved the traditional fruit slot symbols to fit modern gaming trends.
Here's a detailed look at some of the most profitable symbols:
Strawberry: A luscious red strawberry. Multipliers range from x0.01 for a minimum combination to x1.55 for a maximum combination.
Kiwi: A vibrant slice of kiwi. Multipliers span from x0.02 to x3.
Star Gem (Pink Star): A sparkling star gem with multipliers ranging from x0.03 (for at least 4 symbols) to x7 (for a maximum of 15).
The remaining symbols, including the orange, pineapple, apricot, yellow gem (golden coin), and emerald diamond (green crystal stone), are equally captivating. Their multipliers vary, offering players diverse opportunities to secure wins. Each symbol, with its unique design and multiplier, contributes to the game's allure, promising entertainment and potential rewards.
Special symbols
Special symbols in slot games often serve as game-changers, offering enhanced winning opportunities. In "Double Triple Fruits," these symbols are no exception. They play pivotal roles, distinct from regular symbols, and are often the key to unlocking the game's most lucrative rewards.
Diamond (Wild): This shimmering symbol stands out with its brilliance. It doesn't have its multiplier but acts as a substitute for all other symbols except the scatter, amplifying the chances of forming winning combinations. The wild symbol's appearance is accompanied by subtle animations and sound effects, emphasizing its significance.
Number Seven (Scatter): Represented by the iconic number seven, this scatter symbol is a harbinger of potential big wins. It offers multipliers ranging from x0.30 to x15, depending on the number of scatters landed. The scatter symbol's appearance is accentuated by distinct animations and sound cues, highlighting its potential to significantly impact the gameplay.
Double Triple Fruits Features
Slot machine features are the heart and soul of any game, determining its appeal, replayability, and potential rewards. In "Double Triple Fruits," the features are mere additions and integral components that elevate the gaming experience. The slot boasts various features, each meticulously crafted to offer players enhanced winning opportunities and immersive gameplay.
Double-Triple Feature
This feature stands out for its unpredictability and potential. Activated randomly during each spin, it transforms any symbol, excluding the Wild and Scatter, into a double or triple version. A double symbol counts as two, while a triple symbol counts as three. This transformation increases the chances of forming winning combinations and adds a visual dynamism to the game. The accompanying sound effects further accentuate the anticipation, making every spin a thrilling experience.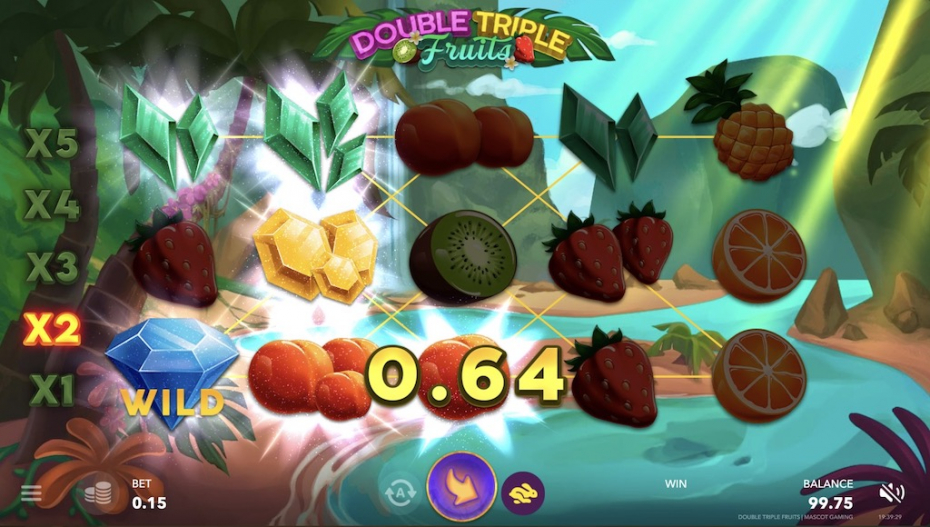 Win Multiplier
The Win Multiplier is another feature that sets "Double Triple Fruits" apart. After every winning spin, this multiplier increases, enhancing the potential rewards for the subsequent spin. The multipliers can range from x1 to x5, resetting to x1 after a non-winning spin. This feature is not just about increased winnings; it's about the excitement of chasing that multiplier, seeing it climb, and anticipating the next big win.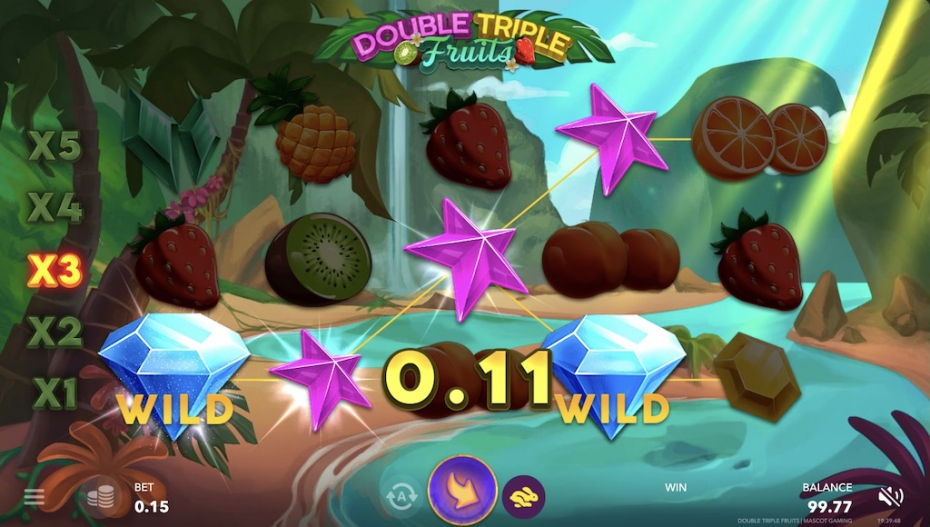 Stacked Symbols
The base game can surprise players with reels filled with identical symbols. This stacking increases the potential for winning combinations, especially when combined with the Double-Triple feature. The visual appeal of seeing a reel filled with the same symbol and enhanced winning potential makes this feature a favorite among players.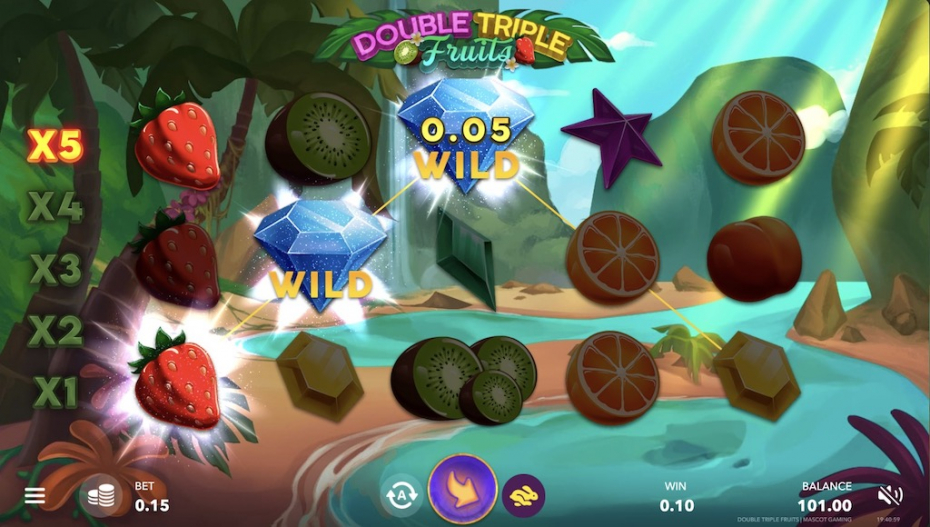 Play Double Triple Fruits for real money