Pros and cons
Supports multi-platform play

Features a progressive jackpot
Only 5 paylines limiting combos

Smaller grid size with a 3x3 layout

No Free Spins to enhance the gameplay
Ultimate Hot Slot Review
Euro Games Technology (EGT), a European provider well-regarded for its betting solutions, released the classic slot game Ultimate Hot in July 2014. Crafted with precision, the game is celebrated for its impressive graphics and substantive payouts, featuring within EGT's esteemed collection of top gaming solutions.
Designed to evoke the nostalgia of yesteryear, Ultimate Hot's aesthetic embodies the retro charm synonymous with traditional fruit machines. Within its reels spin a tapestry of imagery, including crisp fruits, lucky sevens, and shimmering bells, all embraced by the unmistakable auditory experience of vintage slots.
Comparable slots in theme and experience include Sizzling Hot by
Novomatic
and Fruit Shop by
NetEnt
.
The game accommodates modern players by being effortlessly accessible across multiple platforms, including iOS and Android devices, engaging a broad demographic from nostalgic enthusiasts to casual punters exploring the world of classic slot gaming.
How to Play Ultimate Hot
Ultimate Hot presents a game structure that is both traditional and straightforward, featuring 3 reels and 3 rows with 5 fixed paylines, where continued victory requires the alignment of matching symbols from left to right. This non-progressive slot machine offers an uncomplicated user interface seamlessly woven into the retro design, ensuring player engagement is intuitive and unfaltering throughout the gameplay. Introducing the essential control buttons:
Start – visible play button to begin the game
Auto Start – establishes a series of automatic spins
Bet – selector for the spin's wager amount
Gamble – initiates the risk/double-up round
Exit – ends the game session
Absent here are intricate configurations, such as coin value adjustment and detailed slot information tabs, due to the game's simplistic nature. However, betting ranges are delineated, extending from a minimum of $0.05 to a maximum of $100 per spin, accommodating an array of betting strategies. The Ultimate Hot slot touts an RTP of 95.51%, slightly lower than some contemporary offerings but not without charm given its low volatility, which fosters a consistent yet lower-risk gaming practice.
Ultimate Hot Symbols
Proclaiming fidelity to its classic roots, Ultimate Hot's reels dance with symbols resonant with the traditional slot machines of an earlier era. Players can expect no ornate adornments or contemporary symbol innovation but instead, find solace in the fruit machine's steadfast character.
Symbols holding the mantle of high reward include:
Lucky Sevens: Traditional symbol invoking the highest reward.
Golden Stars and Watermelon Slices: Second in hierarchically-structured payouts.
Bells and Bunches of Grapes: Offering moderate winnings.
Further symbols carrying the spirit of fruit slots are manifest as Plums, Oranges, Cherries, and Lemons: These staples provide more modest yet frequent winnings, completing the set of symbols. Each with designated multipliers is directly correlating to their appearance on the paylines.
Ultimate Hot takes a deliberate step from the intricate symbols that typify most modern slot games, forgoing special symbols such as Wilds or Scatters entirely. The absence of these symbols is a testament to the game's commitment to classic slot purity. While this limits the variety typically found in other slots, it also simplifies the gameplay for nostalgic enjoyment.
Ultimate Hot Features
Ultimate Hot compensates for its lack of modernity with enticing bonus features that elevate the classic fruit machine experience.
Gamble Feature
Dubbed 'Gamble', this feature is the gateway to potentially doubling your winnings. Following a winning spin, players choose between a red or black card. A correct guess will multiply the current winnings by two, while an incorrect one results in the forfeiture of the round's gains. The simplicity of the Gamble feature makes it a fitting companion to the game's low volatility, encouraging players to take risks for higher rewards.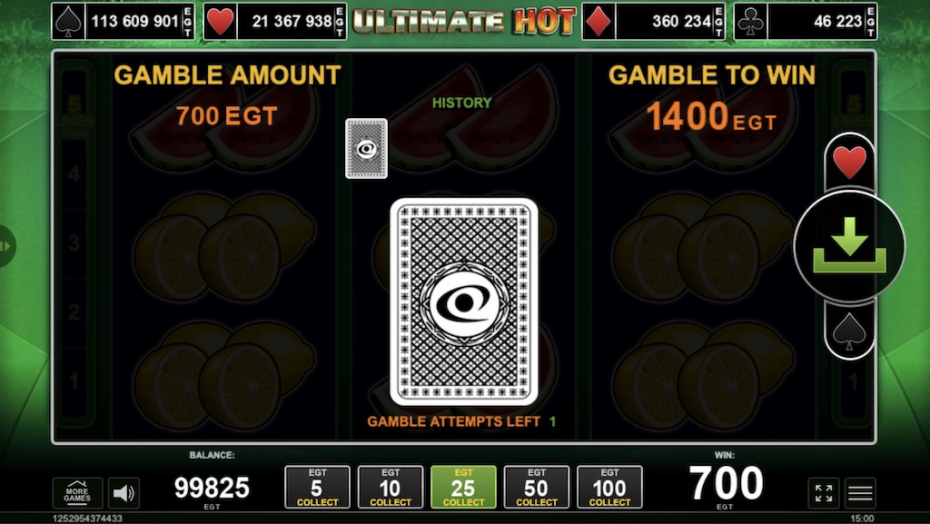 Jackpot Cards Mystery
This exclusive feature ingrains a level of excitement unseen in traditional slot machines. Players are randomly thrust into a bonus round where a selection from twelve face-down cards determines their fate. Unveiling three matching card suit symbols unlocks one of four progressively growing jackpots. Each suit symbol, from clubs to spades, represents ascending jackpot levels, with spades promising the grandest windfall. The thrill of the Jackpot Cards Mystery lies not only in its randomness but also in its substantial payout potential.
Play Ultimate Hot for real money