Pros and cons
Larger grid size (6x4) for more potential combinations.

Multi-platform support ensures versatile gameplay.

Presence of two distinct Free Spins features.

Offers three unique slot features.
Riot 2: Blow and Burn Slot Review
Developed by the renowned Mascot Gaming, Riot 2: Blow and Burn, made its debut in May 2022, offering players a unique gaming experience set against a backdrop of urban chaos. The game's design is a masterful blend of dark and brutal aesthetics, capturing the essence of a city in turmoil. The plot revolves around rebels, outlaws, and masked vigilantes, each playing a pivotal role in the game's narrative. These characters and symbols like dynamites and barrels create a compelling storyline that keeps players engaged.
The game's top-notch animation quality, with superior graphics that breathe life into the symbols and the game's environment. While the specifics of whether it's 2D or 3D aren't explicitly mentioned, the visuals are undoubtedly captivating, complemented by additional animations that enhance the gameplay. The soundtrack perfectly matches the game's theme, with intense music, explosive sound effects, and ambient noises that immerse players in the rioting atmosphere.
For players who appreciate the urban rebellion theme, slots like "Street Fighter" by
NetEnt
and "Anarchy" by
Microgaming
offer similar vibes. One of the standout features of "Riot 2" is its multi-platform compatibility. Developed using HTML5, it ensures a seamless gaming experience on Android and iOS devices. In summary, "Riot 2" is tailored for slot enthusiasts who relish intense themes, captivating graphics, and many features that promise thrilling gameplay.
How to Play Riot 2: Blow and Burn
Riot 2 BnB presents a structured gameplay with 6 reels, 4 rows, and 25 paylines. While slightly deviating from the traditional 5-reel setup, this structure offers players a broader canvas for potential winning combinations. Winning in this game requires players to land at least 2 identical symbols on consecutive cells, starting from the leftmost reel.
The user interface is meticulously designed, integrating seamlessly with the game's theme. It's intuitive, ensuring even novice players can navigate with ease. The design elements echo the game's urban chaos, making the gameplay experience immersive.
Control Buttons:
Coin Bet: Displays the full menu of betting options, allowing players to adjust their stakes.
Spin: Positioned centrally, it initiates a single spin of the reels.
Autospin: Located to the left, this button automates the spinning process for a predetermined number of rounds.
Information: Accessible via the hamburger menu in the bottom left corner, it provides insights into the game rules and paytable.
Mute: Allows players to toggle the game's sound on or off.
The betting range is flexible, catering to casual gamers and high rollers. Players can place bets starting from a minimum of 0.25 coins and scaling up to a maximum of 50 coins. The game's 25 fixed paylines provide ample room for strategic betting.
With an RTP of 95.38%, "Riot 2" slightly trails the industry average. However, its medium volatility ensures a balanced mix of frequent smaller wins and occasional big payouts. The maximum win rate is an impressive 1,500x the total bet, promising substantial rewards for the fortunate.
Riot 2: Blow and Burn Symbols
The symbols in "Riot 2" are a testament to its urban rebellion theme, echoing the title and atmosphere in their design and animation. These symbols, while innovative, maintain a connection to current slot trends, offering a progression from classic slot symbols.
High-Value Symbols:
One-Eyed Rioter: A bearded rioter with one eye visible. Multipliers: Up to 60x. Players can expect maximum winnings based on this multiplier for a six-of-a-kind combination.
Helmet: Represents a protective helmet. Multipliers: Up to 40x.
Female Rioter: A fierce female rioter. Multipliers: Up to 32x.
While not as lucrative, the remaining symbols are essential for the game's narrative. The Gun Rioter and Cap Rioter offer multipliers up to 10x and 16x, respectively. The card symbols, including J, Q, K, & A, have multipliers ranging from 3x to 4x. The themed masks, both Yellow & Black, come with a 5x multiplier. Each symbol's distinct appearance and animation contributes to the game's immersive experience.
Special symbols
Special symbols in "Riot 2" play a pivotal role, offering enhanced gameplay dynamics distinct from regular symbols. Their presence, both in number and variety, is commendable compared to other slots.
Dynamite: This explosive symbol has animations and sound effects that resonate with its nature. It appears primarily in the main mode but can also trigger the Blow! feature during free spins. The dynamite symbol becomes sticky during these spins, with a counter that increases with each spin up to a maximum value of 5. Its appearance on the reels significantly alters the gameplay dynamics, offering players enhanced winning opportunities.
Barrel: A wooden barrel symbol that, when ignited, showcases burning animations and sound effects. Predominantly appearing in the main mode, it can activate the Burn! feature during free spins. The barrel symbols remain sticky during these spins until they can create a wild reel, changing the gameplay landscape and increasing the potential for massive wins.
Riot 2: Blow and Burn Features
Slot machines are renowned for their features, which enhance gameplay and increase the potential for wins. "Riot 2" stands out in this regard, offering a plethora of diverse and unique features compared to other slots.
Rockfall Feature
The Rockfall feature is a dynamic gameplay mechanic activated after any winning game round, whether in the main game or during Free Spins. It operates on a cascading or avalanche principle, where winning symbols vanish and are replaced by new ones. This process continues, creating a chain of potential wins until no new winning combinations form. The graphics and soundtrack accompanying this feature emphasize the cascading nature of the symbols, making it a visual and auditory treat for players.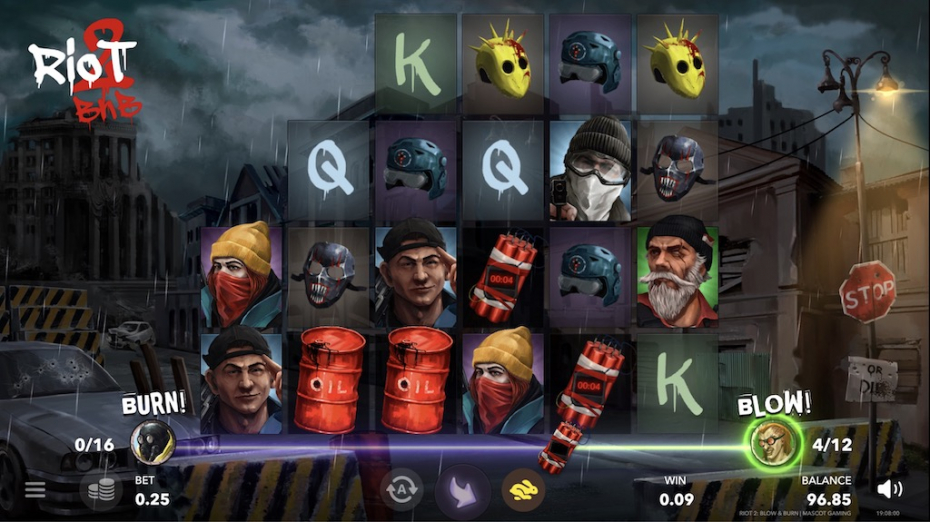 Risk'n'Buy Feature
A feature that truly puts players in the driver's seat. After each spin in the main game, players are presented with a choice: to risk their current win for a shot at one of the two Free Spins features or to buy their way directly into one of these features. This decision-making process, not commonly found in other slots, adds an element of strategy to the game. The graphics and suspenseful soundtrack accompanying this feature heighten the anticipation, making it a thrilling aspect of "Riot 2".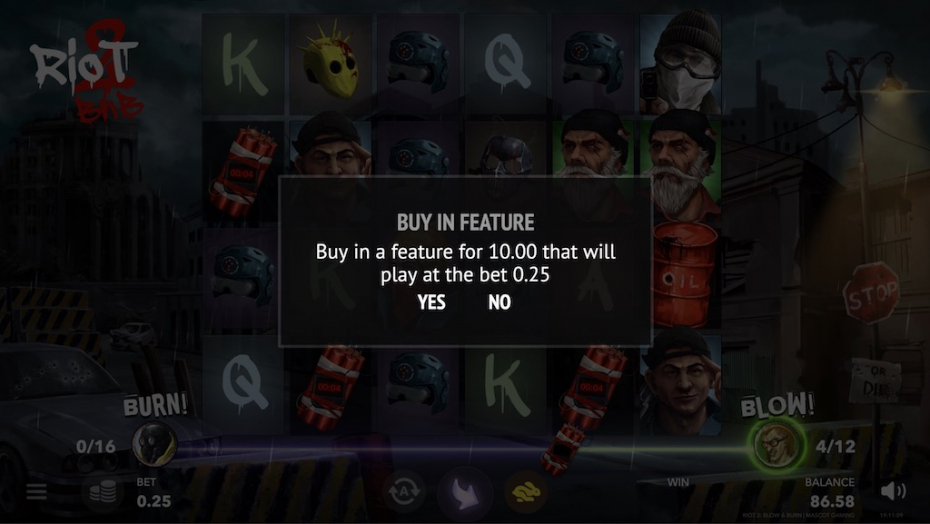 Blow! Free Spins & Burn! Free Spins
These bonus modes are the crown jewels of "Riot 2". Activated by collecting dynamite and barrel symbols, respectively, they offer players a set of free spins with unique rules. The graphics and sound in these modes are intensified, echoing their explosive and fiery themes. With sticky symbols, wild reels, and the potential for massive wins, these modes are a testament to the game's commitment to delivering an unparalleled gaming experience.
Play Riot 2: Blow and Burn for real money