Pros and cons
Wide betting range 0,4-200

Three unique special symbols

Compatible with iOS and Android

The maximum bet will appeal to high rollers
Hell'Sing Slot Review
Crafted by the esteemed developer Mascot Gaming, the Hell'Sing slot debuted in February 2021. This game is a masterful blend of horror and fantasy, drawing players into a world where the supernatural reigns supreme. The design and atmosphere are meticulously constructed to evoke a sense of dread and excitement, with the backdrop and symbols seamlessly integrating the theme of vampires and werewolves.
The plot is a riveting tale of monster hunting, with roots tracing back to the iconic narrative of Bram Stoker's Dracula. Central characters like Dracula, the wolfman, the lady, the policeman, and the butler add depth to the storyline and play pivotal roles in the gameplay. The animation quality is top-notch, with the game employing both 2D and 3D graphics. Additional animations, such as the hunter's glowing yellow eyes and the blood mist that rises with each payout, further enhance the gaming experience.
The auditory experience is equally immersive. An eerie electronic organ-based soundtrack sets the mood, while various sound effects and ambient noises keep players on the edge of their seats. For those who appreciate the theme of Hell'Sing, similar slots worth exploring include Vampire's Embrace by WMS and
Blood Suckers
 by
NetEnt
.
Moreover, Hell'Sing is multi-platform compatible, ensuring a smooth gaming experience on desktop PCs and mobile devices, including iOS and Android platforms. In summary, Hell'Sing is tailored for players who relish a blend of horror, fantasy, and high-quality slot gaming.
How to Play Hell'Sing
Hell'Sing offers a structured gameplay experience on a 5×4 grid, boasting 40 fixed paylines. This standard structure ensures familiarity for seasoned slot players while being accessible for newcomers. Winning in Hell'Sing requires combinations to be formed from left to right, starting from the leftmost reel. Only the highest win per bet line is paid out, emphasizing the importance of strategic play.
The user interface is a testament to Mascot Gaming's commitment to player-centric design. It's intuitive, ensuring even first-time players can navigate with ease. The design elements are seamlessly integrated, echoing the game's haunting theme.
Control Buttons:
Coin Value: Adjusts the value of each coin located near the betting options.
Total Bet Range: Allows players to set their bet amount from £0.40 to £200.
Spin: Positioned prominently, this button sets the reels in motion for a single spin.
Autoplay: For players who prefer continuous gameplay, this button automates spins.
Fast Spin (Hare Image): Enables quicker spins for a faster-paced gaming experience.
Slot Information: Typically represented as an 'i' or 'info' button, it details the game, paytable, and rules.
Mute: Allows players to toggle sound on or off, ensuring gameplay suits individual preferences.
Betting in Hell'Sing is flexible, with a range accommodating both cautious players and high rollers. The game's RTP stands at 95.3%, aligning with industry averages and offering a balanced chance of returns. Regarding volatility, Hell'Sing leans towards the lower end, suggesting more frequent but smaller payouts, making it suitable for players who prefer consistent wins over high-risk, high-reward gameplay.
Hell'Sing Symbols
Hell'Sing's symbols are a harmonious blend of the game's haunting theme and the traditional elements of slot machines. The meticulous design of each symbol is a testament to the game's commitment to providing an immersive experience. The progression from classic slots is evident in the symbols' detailed animations and thematic coherence.
High-Value Symbols:
Dracula: A menacing portrayal of the iconic vampire with multipliers that can significantly boost winnings.
Wolfman: A fearsome creature of the night, offering substantial multipliers when part of a winning combination.
Lady is a mysterious female character whose symbol can lead to impressive payouts.
Policeman and Butler: Both characters are intricately designed, with the potential for notable wins when they appear on the reels.
For the remaining symbols, players will encounter the familiar card symbols (10, J, Q, K, A) etched onto gravestones, seamlessly integrating with the game's eerie atmosphere. Each of these symbols comes with its own multipliers, offering varied winning potentials.
Special symbols
Special symbols in Hell'Sing are not mere embellishments; they play a pivotal role in enhancing the gameplay. Distinct from regular symbols, they introduce unique mechanics and offer higher rewards. Compared to other slots, Hell'Sing boasts a commendable variety of special symbols.
Hell'Sing (Van Helsing): The protagonist of our tale, Hell'Sing, is depicted with glowing yellow eyes. This symbol acts as the wild, substituting for other symbols to amplify winning combinations. It can also manifest as a scatter, introducing players to the Hell'Sing Feature. Its appearance is accompanied by supernatural animations and sound effects, enhancing the gaming experience.
Vampire's Sign and Werewolf's Sign: These symbols serve as the game's scatters. Their appearance is marked by glowing eyes, reinforcing the supernatural theme. They are pivotal in triggering the Vampire Hunt Free Spins and Werewolf Hunt Free Spins. Their presence elevates the potential for wins and introduces unique gameplay mechanics, ensuring that players remain engaged throughout their gaming session.
Hell'Sing Features
Slot machine features are the heart and soul of any game, determining its appeal and replay value. In the vast sea of online slots, Hell'Sing stands out, not just for its captivating theme but also for its decadent array of features. These features enhance the potential for wins and make the gameplay experience dynamic and engaging.
Risk'n'Buy Feature
This feature is a testament to the game's innovative approach. Offered after each spin in the main game, it presents players with a strategic choice. They can risk their current win for a shot at the Free Spins feature or buy their way into it at a specified cost. This feature introduces an element of strategy, allowing players to weigh the potential risks and rewards of their decisions. The graphics and sound effects accompanying this feature align with the game's eerie theme, adding to the suspense.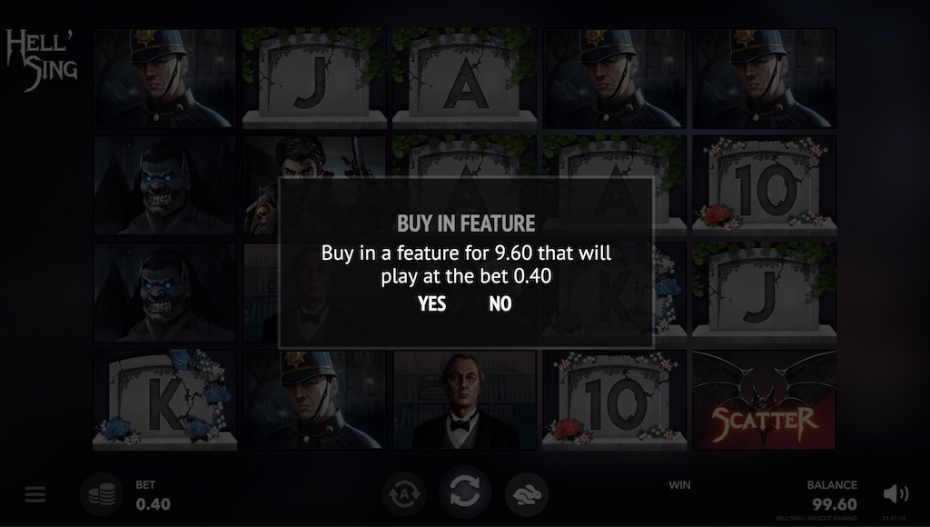 Vampire Hunt Free Spins
Activated by landing the Vampire's Sign symbols, this mode immerses players in a world dominated by vampires. A random number of Vampire symbols are added during each free spin, overlapping existing symbols and enhancing winning potentials. This mode's graphics and sound effects are tailored to the vampire theme, ensuring a cohesive gaming experience.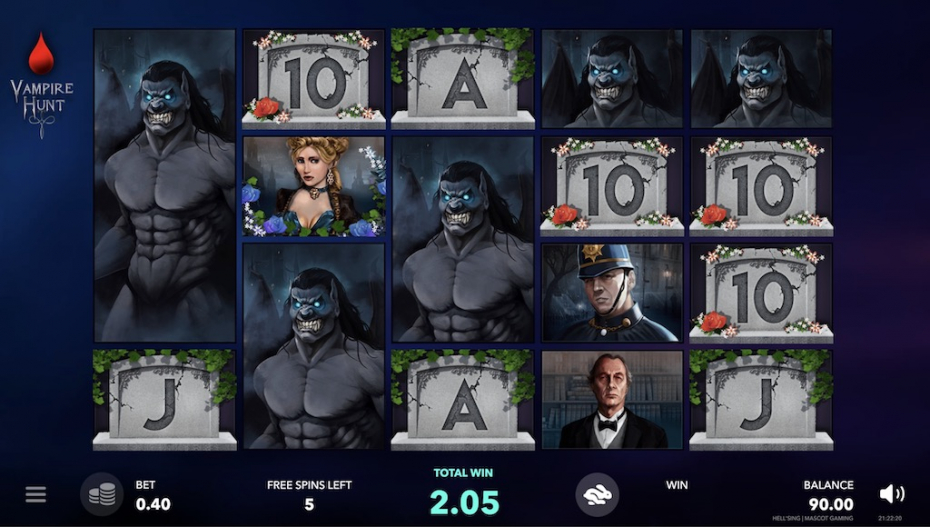 Werewolf Hunt Free Spins
Triggered by the Werewolf's Sign symbols, this mode shifts the focus to the fearsome werewolves. The Werewolf symbol becomes special, expanding on the reel and paying even on non-adjacent positions. This unique mechanic sets this mode apart from the regular gameplay, offering players a fresh and exciting experience.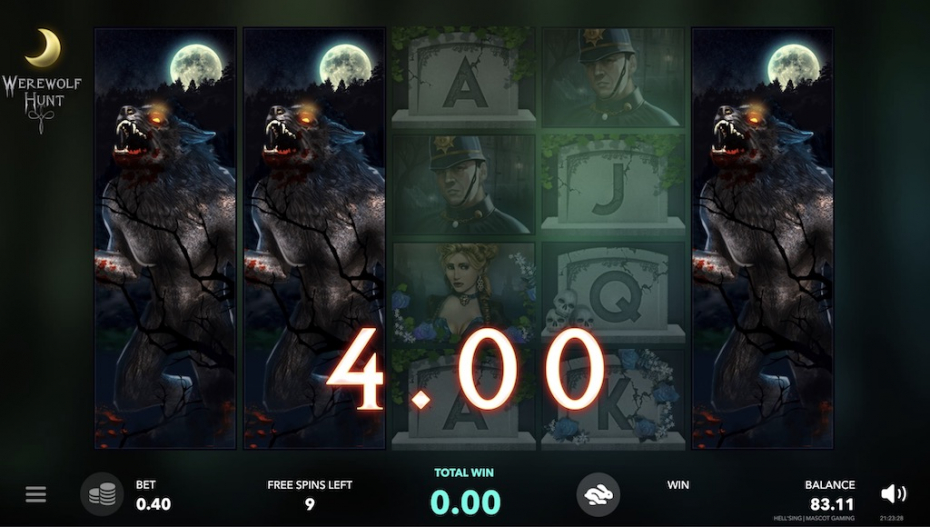 Play Hell'Sing for real money