Pros and cons
Engaging Narrative

Innovative Features

Stellar Design and Animation

User-Friendly Interface

Competitive RTP
Medium-to-High Volatility

Complexity for Newcomers

Lack of Progressive Jackpot
The Emperor's Curse Slot Review
In the ever-evolving world of online slots, Zeus Play has once again demonstrated its prowess by releasing "The Emperor's Curse" on June 11, 2023. This slot game is a harmonious blend of traditional and modern elements, capturing the essence of feudal Japan with an intriguing twist. The design is a visual treat characterized by anime-styled visuals that transport players to an ancient Japanese palace adorned with vibrant colors and intricate artwork.
The narrative is a compelling horror love story where a Ronin's passion leads him down a treacherous path. After falling for the Emperor's wife, he commits the grave act of murdering the Emperor during a mystical ceremony. This act unleashes a curse, and vengeful spirits and demons pursue Ronin. The game's top-notch animation quality seamlessly transitions between 2D and 3D visuals, further enriched by additional animated sequences and video clips. The auditory experience is equally immersive, with a harmonious blend of traditional Japanese music, sound effects, and voiceovers that breathe life into the characters and storyline.
For players familiar with online slots, the themes and narrative might remind them of popular games like Koi Princess by NetEnt and Sakura Fortune by Quickspin, which delve into Asian folklore and legends. However, when it comes to gameplay mechanics and special features, "The Emperor's Curse" shares similarities with titles like "Samurai Split" by NextGen Gaming and "Bushido Ways" by Nolimit City, especially in terms of special symbols and bonus features.
One of the standout features of this slot is its multiplatform compatibility. Whether you're playing on a desktop, mobile, or tablet, the game ensures a seamless experience. In conclusion, "The Emperor's Curse" is tailored for slot enthusiasts who appreciate rich storytelling, captivating visuals, and rewarding gameplay mechanics.
How to Play The Emperor's Curse
Diving into the mechanics of "The Emperor's Curse," players are greeted with a traditional slot structure that comprises 5 reels, 3 rows, and 20 fixed paylines. While this setup might seem standard, the game introduces nuances that elevate the gameplay experience. Wins are achieved by landing three or more matching symbols on paylines, moving from left to right, starting from the leftmost reel.
The user interface is meticulously designed, ensuring both functionality and aesthetic appeal. It seamlessly integrates with the game's theme, making it intuitive even for novice players. At the heart of the controls is the Spin Button, centrally located for easy access. Adjacent to it is the Auto Spin Button, allowing players to set a predetermined number of spins. The Bet Adjustment Tool at the bottom left offers flexibility in setting stakes. For those seeking more in-depth information, the Menu Button on the left-hand corner provides a comprehensive view of the paytable and game rules.
Unique to this slot are its control buttons. For instance, the Imperial Counter, although not a button, is integral to the gameplay, filling up with each wild symbol, leading to the coveted Imperial Bonus Game.
Betting ranges are diverse, accommodating conservative players and high rollers, with stakes ranging from £0.1 to £20 per spin. The game boasts a competitive RTP of 96%, placing it on par with many top-tier slots, and its medium-to-high volatility ensures a balance between frequent smaller wins and occasional big payouts.
Regarding standout features, the game's maximum win multiplier is a whopping 2,000x the stake, promising substantial rewards for the fortunate. With such enticing mechanics and potential returns, "The Emperor's Curse" offers an engaging and potentially lucrative gaming experience.
Symbols in "The Emperor's Curse" testify to the game's dedication to authenticity and detail. They resonate with the game's overarching theme of ancient Japan, blending cultural elements with the narrative's characters. The symbols are not just static images; they come alive with animations, adding depth to the gameplay.
Among the high-paying symbols, we find:
Oni Masks: With their varying expressions, these demon-like masks can fetch players anywhere from 7.5x to 25x the bet for a full combination.
Emperor's Wife, Alita: An exquisitely illustrated character, she promises a rewarding 25x multiplier for five-of-a-kind.
The remaining symbols, including the red and orange Japanese characters, are consistent in design, reflecting the game's theme and offering multipliers ranging from 2.5x to 3x.
While not as lucrative as the high-paying symbols, these symbols play a crucial role in maintaining a steady flow of wins, ensuring players remain engaged and rewarded.
Special symbols in slot games often hold the key to unlocking the most rewarding experiences, and "The Emperor's Curse" is no exception. These symbols enhance the game's payout potential and introduce unique gameplay mechanics that set the slot apart from its contemporaries.
The wild symbol, represented by an intense-looking Japanese man with fiery red eyes, is more than just a substitute for regular symbols. When it graces the reels, it can trigger a re-spin, locking in place and offering players another shot at forming winning combinations.
Golden coins symbolize the scatter, and landing three or more simultaneously can usher players into the coveted free spins round.
The Emperor's Curse Features
The allure of any slot game often lies in its unique features, and "The Emperor's Curse" is a shining example of how innovative mechanics can elevate the player experience. The game seamlessly integrates traditional elements with novel features, ensuring a gameplay experience that's both familiar and refreshingly new.
Wild Icon and Re-Spins
A feature that stands out prominently is the wild icon that substitutes for other symbols and triggers re-spins. When one or more wilds appear on the reels, they lock in place, and a re-spin is awarded.
This mechanism offers players an additional chance to land winning combinations, and the potential for consecutive re-spins adds an element of anticipation. The visual and auditory cues accompanying this feature, especially the animation of the wild symbol, enhance its appeal.
Free Spins Round
Free spins are a staple in many slots, but "The Emperor's Curse" adds its twist. Triggered by landing three or more scatter symbols, this feature is enhanced by the presence of expanding wilds. These wilds can cover entire reels, significantly boosting the potential for big wins. The number of free spins awarded depends on the number of scatter symbols landed, making it a feature players eagerly anticipate.
Imperial Bonus Game
Perhaps the most distinctive feature of this slot is the Imperial Bonus Game. Activated when the counter fills with wild symbols, players are treated to ten free spins with a 4x multiplier. This feature promises substantial rewards and showcases the game's commitment to delivering diverse and engaging player experiences.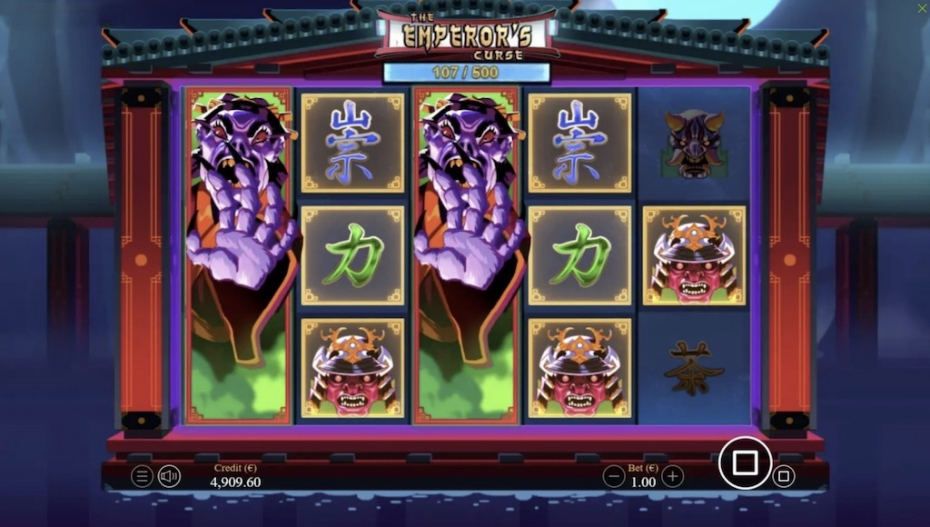 Play The Emperor's Curse for real money