Pros and cons
UNIQUE MAHJONG SETUP

LOW BET

INTERESTING BONUSES

EXCELLENT GRAPHICS
Fireworks Master Slot Review
With 243 ways to win Playson is certainly trying out some new things in Fireworks Master slot. And that's not even the most surprising thing that you'll find on the reels, far from it. The unique mahjong setup shows up on the reels as an automatic bonus feature, really bringing this game to another level.
In effect, it works much like cascading wins. Then there is the theme, which is rare by itself too, having a somewhat sleep panda firing up rockets to illuminate the reels.
The peaceful night sky reveals a serene setting stretching in the background, with the reels built in a manner that resembles a mahjong board. If you're looking for a game full of action, you'll have that in Fireworks Master slot too. Beautiful symbols and animations perfect the feeling, with the classical oriental music and sound effects adding their own touch to the gaming experience.
This game comes with some pretty unique features, and the same applies to the graphical style and the reels themselves. Even if you do find games with similar features and setups, it's the combination of all of this that makes it hard to find games that would match the setting.
However, if you're looking for games with 243 ways to win, then you've got a lot more choices, such as Pearl Beauty: Hold And Win from this same publisher.
The bad news is, if you're looking for classic online slots then you are not going to find anything representing that here. The good news is, if you're looking for something new and exciting with excellent graphics, a possibility of big wins and multiple features then Fireworks Master has you covered in every possible aspect.
It might take a few spins to get the hang of the game, but once that's covered you're gonna come back to the slot time after time again.
How to Play Fireworks Master
The interface for Fireworks Master is probably familiar if you have played Playson games before. If you haven't you'll be delighted to know that the system is straightforward to use. All you need to do is set your bet and press the play button. That's all, you're good to go round and round the reels.
You also have the autoplay button, which allows for a set number of spins to be played automatically, including some stop signs in case of wins or losses.
As this is a game with no paylines, instead opting for the 243 ways to win, the bet is set as a total and not per line. Your betting options start from 0.50 coins per round and go up to a hundred coins per spin.
As in all games that use this sort of payway system, the overall wins seem quite low. Here the top win is just equal return from a five symbol combination. You have to remember that you can score that win in 243 different ways, on a single spin.
Fireworks Master online slot doesn't use any classic icons. Instead, you have an assortment of high-quality pictures that include bamboo in different configurations, flowers, and symbols of luck like the Fortune Cat. All the symbols come with different winning animations, which are simple yet elegant.
Though the game offers plenty of bonus features, there are only two special symbols:
Wild – The Fireworks Master himself, gladly substituting for all other symbols.
Bonus – A lit up lantern, ready to ascend your gaming experience to a whole new level with the help of free spins.
Fireworks Master Slot Features
The game has some pretty interesting features and bonuses, which will take some time getting used to. Some of these are part of the basic gameplay, whereas others show up as special bonuses when certain conditions are met. Take a good note of how these work, as they tend to elevate the wins this online game comes up with to entirely new heights. A lot of luck is required, but it's usually worth the risk.
Multilayer Feature
If you're looking for interesting features in the basic gameplay, then this Fireworks Master speciality is worth taking a look. On each round of the game the symbols land in layers. There are four layers, of which the first three contain normal icons.
When you score a winning combination the symbols disappear, opening up more possibilities in the next layer. If these form winning combinations, they too disappear. In this way, the game resembles avalanche wins.
The kicker is that the fourth layer is full of specials, containing only wilds and bonus symbols. If you get that far you've already amassed plenty of wins, and are about to score a ton more wins. It's not always easy unlocking each layer, especially with the high variance.
If you are successful, the combinations just won't stop piling up. This system can also result in up to 720 ways to win, tripling the original number.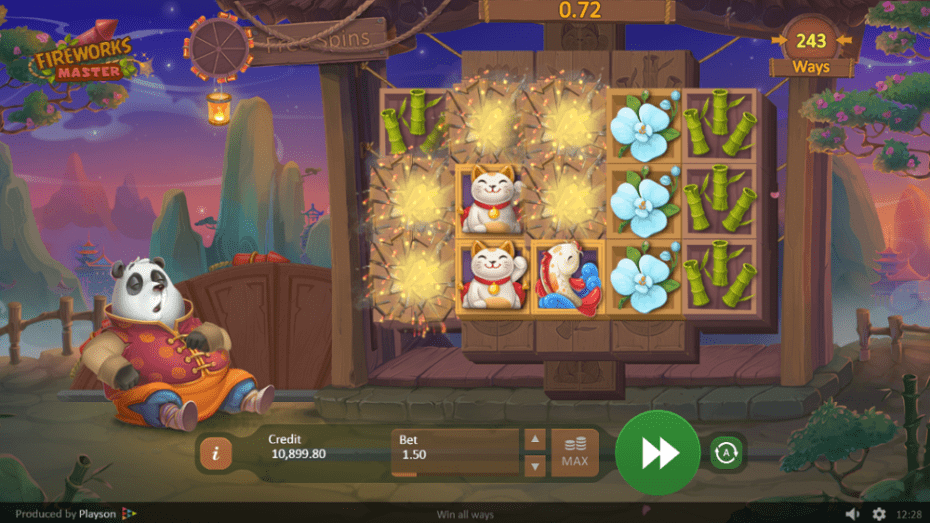 Free Spins
If you land seven or more bonus icons you enter the bonus spins mode. You get an extra spin for each bonus icon and a further spin for every symbol that lands or is uncovered during these spins. The limit is 50 rounds, however.
The reels take a new shape, with the playing area expanded to accommodate up to 3150 ways to win. This time around there are only three layers, and reaching the final layer will unlock the bonus wheel.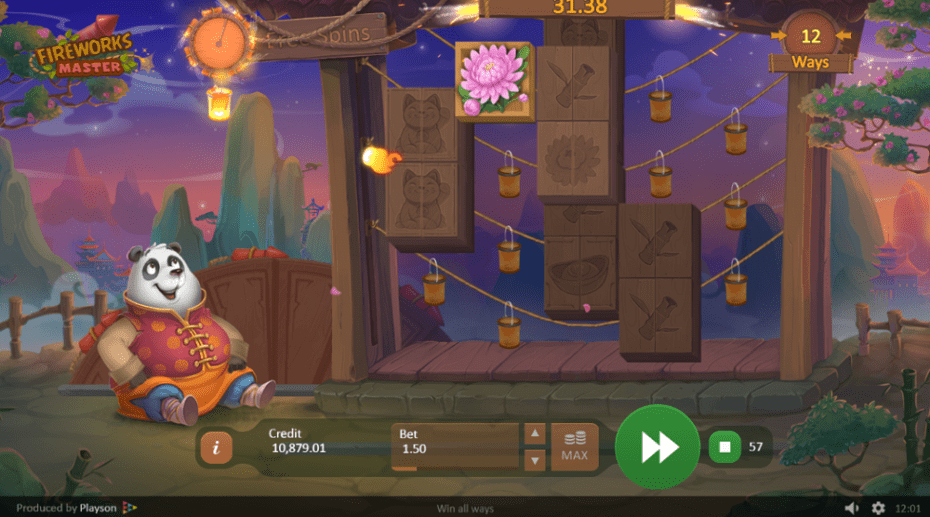 Bonus Wheel
If bonus spins with increased payways is not enough to entice you to give this slot a try, then perhaps you'll be interested in the bonus wheel. It is activated by reaching the bonus layer, after which the wheel is spun. You can win up to 100 times your total bet here.
The more interesting feature are the possible multipliers which will apply on your next round. These multipliers start from 2x and go all the way into 50x. If you make it this far, you'll unlock the real winning potential Fireworks Master offers. And that's when you'll finally get to see the fireworks too.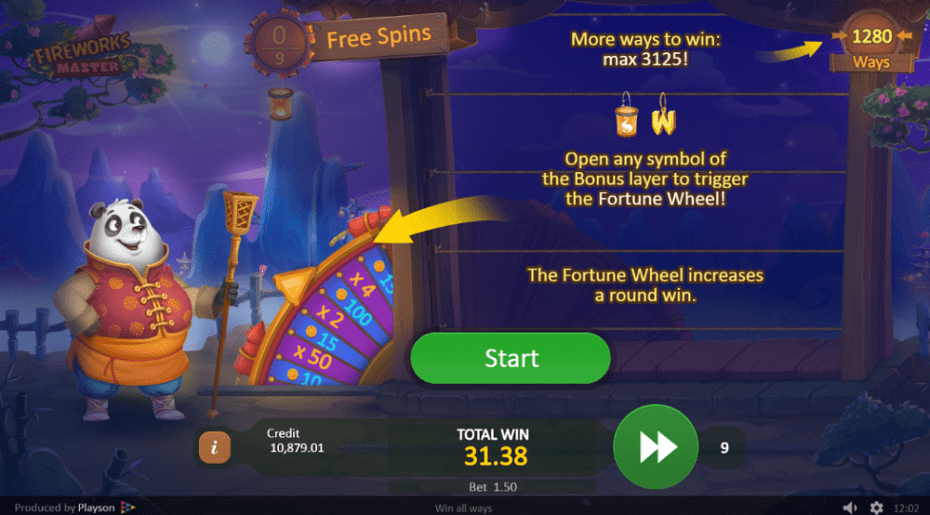 Play Fireworks Master for real money