Pros and cons
High winning potential

Great animations
Different format than usual
Super Heroes Slot Review
Experience a new kind of slot as Yggdrasil's Super Heroes is filled with fluent animations, great music, and an overall immersive gameplay experience. If you are looking for an innovative type of slot game then you are lucky. Jump on and become one of the superheroes trying to take down the bad guys.
As with other titles from the same developer, the game loads up with a small cinematic, this time featuring superheroes suiting up. The dashboard isn't what you'd usually come across as there isn't a central piece, only a big city seen from a great height that operates as the background with a fast-paced action-themed tune topping it off.
Regarding the mechanics, you get the normal reel after reel action meaning one stops spinning immediately after the previous one.
The slot has a unique look and gameplay style. The graphics and animations are of top quality while the overall excitement feeling provided by the game never stops. Like always, Yggdrasil has managed to create an incredible looking slot game that the gambling audience is guaranteed to fall in love with.
How to Play Super Heroes
The game has 3 lines and 5 reels with a total of 25 lines. The interface is very simple. Starting from left to right, there is the total lines indicator which is accompanied by the stake selector. Near it, you'll find the total bet amount screen. Then you have the main interactive parts. These are the max bet option, the spin button, and the autoplay function. Finally, you get the "win" indicator and your balance display.
The minimum stake amount is 0.01 coins or $0.2 (or any other currency's equivalent) while the maximum is 5 coins or $100.
Also, you can activate the autoplay function which is filled with different levels ready to provide the best for you starting with a 10-spin option up to infinite spins.
Finally, the game has medium volatility resulting in continuing small and medium-sized win. After testing it for 50 spins we got around 20 winning combinations which as expected didn't yield high returns.
Moving on to the symbols, there isn't much to keep track of. There are four spheres all surrounded by the same futuristic-looking dark gray border. They contain shapes made out of basic geometric ones like squares and triangles. There is a red, green, blue, and a purple one.
There are four more high pay symbols which are represented by portraits of villains and cyborgs, each of the previously mentioned colors. As for special symbols, there is only one:
Wild – the word "WILD" in a flashing gold font placed on an orange holographic display with a dark gray base and top piece. It acts as a fitting piece to create combinations with the symbols around it.
Super Heroes Features
The game puts you right in the action as soon as it's done loading and rest assured that you won't get bored as the medium volatility keeps on throwing bonuses your way. Here's the catch, instead of there being many features there is only one, the free spins, during which there are many possible bonuses that can activate.
Super Hero Feature
At random spins, two of the total six superheroes will appear and apply their special superpower, in the form of a bonus, to your spin in order to make it more profitable. However, all of the heroes that appear in normal spins are always on level 1. You can see what they do and their maximum bonus in the following section.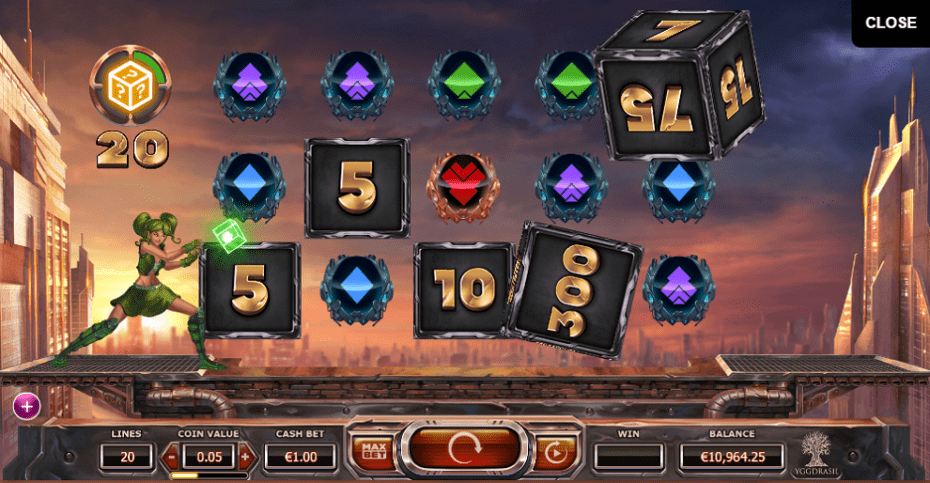 Free Spins
Depending on the number of free spin symbols you'll land on, you will be awarded the following:
3 symbols – 4 spins
4 symbols – 5 spins
5 symbols – 7 spins
At the start of each free spin, you'll be greeted by two of our superheroes each one applying its own effect to make your spins more profitable. Every superhero's current effect values are determined by his or her level.
These are indicated in a miniature of the character surrounded by 4 bars located at the bottom of the screen. Each level comes with an improved effect.
Here are the 6 different colored superheroes and the bonuses they activate:
Green (Mirage) – Mystery Win: All high paying symbols award 5 – 1000 coins on level 1 up to 20 – 1000 coins on level 4.
Red (Raven) – Wild Reels: It substitutes 1 random reel on level 1 up to 4 random reels on level 4 for the wild symbol.
Yellow (Hopper) – Random Wilds: Makes 2 wild symbols on level 1 up to 5 wild symbols on level 4 appear in random positions.
Purple (Tesla) – Random Symbols: Replaces 2 random symbols on level 1 up to 5 random symbols on level 4 to higher paying ones.
Blue (Trance) – Extra Free Spins: Adds 1 free spin on level 1 up to 4 free spins on level 4.
Brown (Knox) – Win Multiplier: Applies an x2 multiplier on level 1 up to a 5x multiplier on level 4 to the total spin win amount.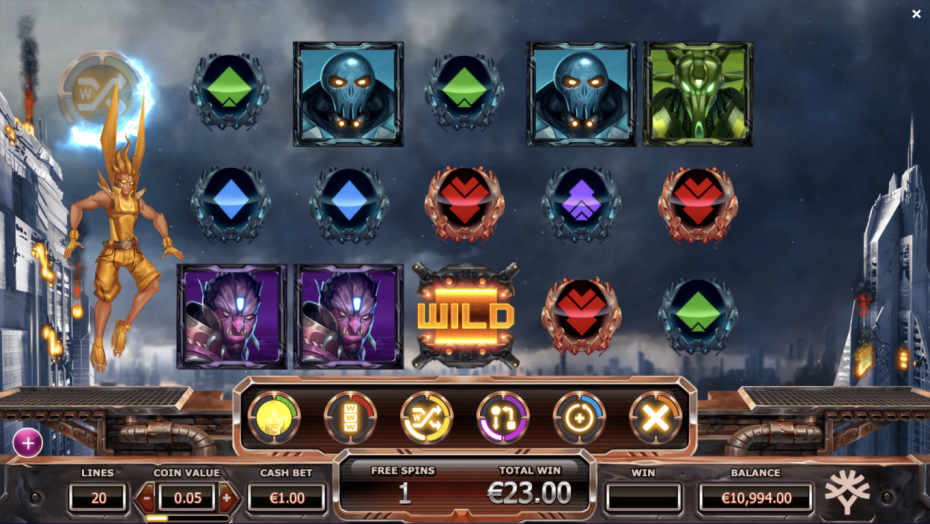 Play Super Heroes for real money