Pros and cons
A beautifully rich Steampunk setting

Contemporary 3D animations

An interesting and unique bonus round

Plentiful stacked Wilds and multipliers
Rather ordinary features and bonus modes
Steam Tower Slot Review
 NetEnt are known for their excellent range of modern online slot games. Games like Dead Or Alive and Asgardian Stones are known widely for their excellent graphical fidelity and modern slot features. Thankfully, the Steam Tower online slot is no different. Steam Tower immediately immerses the player into a rich and unique steampunk world. This online game wears its intriguing art style on its sleeve, boasting contemporary 3D animations that have a very unique style. The overall atmosphere of the online game should attract all types of bettors.
The setting of Steam Tower should immediately draw in players. The vibrant steampunk world that Steam Tower is set in truly sets it apart from the rest of the slots on the market. The character designs are particularly interesting. Each character has a very distinct model, boasting a unique costume that blends in perfectly with the distinct steampunk setting of the game. The character models bring a sense of personality and uniqueness to each of the characters. Even with no dialogue, Steam Tower keeps its characters and plot engaging, something which many rival titles cannot achieve.
Along with its unique art style and engaging atmosphere, Steam Tower has a whole host of features that make this particular slot a very fun one way to play. Plenty of gameplay options make this a great digital slot game for any bettor to enjoy.
How To Play Steam Tower
Steam Tower is a relatively simple game to play, but that does not mean that it is without its fair share of complex and unique gameplay mechanics.
As a traditional-style 5-reel game, this title gives you a relatively simple premise for you to follow; all you have to do is rescue the princess at the top of a 16-floor tower.
Players start by choosing the amount of coins they wish to wager and the size of the coin (these corresponding to a real money value). Just click the "Spin" button to begin. In order to progress through the game and travel up to the next floor/round, players must trigger a Stacked Wild that covers the whole reel.
Triggering this will give bettors 10 free spins and will advance them to the next round. The goal is to reach the 16th floor of this tower. Once there, players will receive a 7x bet multiplier and a Top Floor Bonus. This initial set up is what makes this game so popular and addictive to play.
Steam Tower Features
There are plenty of features to enjoy within Steam Tower's highly engaging gameplay loop. From Stacked Wilds to a whole range of bet multipliers, there is plenty to keep a player engaged with this particular slot. There are also quite a few bonus features and game modes for bettors to mess around with should they want to try out a more unique style of gameplay.
Stacked Wilds
As you spin the 5 reels you may receive a Wild. If all of the 5 reels become covered with Wilds then the player will progress onto the next round, which rewards the player with 10 free spins. If just one Wild appears anywhere on the reels while a free spin is in use, then players will receive an additional 2 free spins and will progress another level.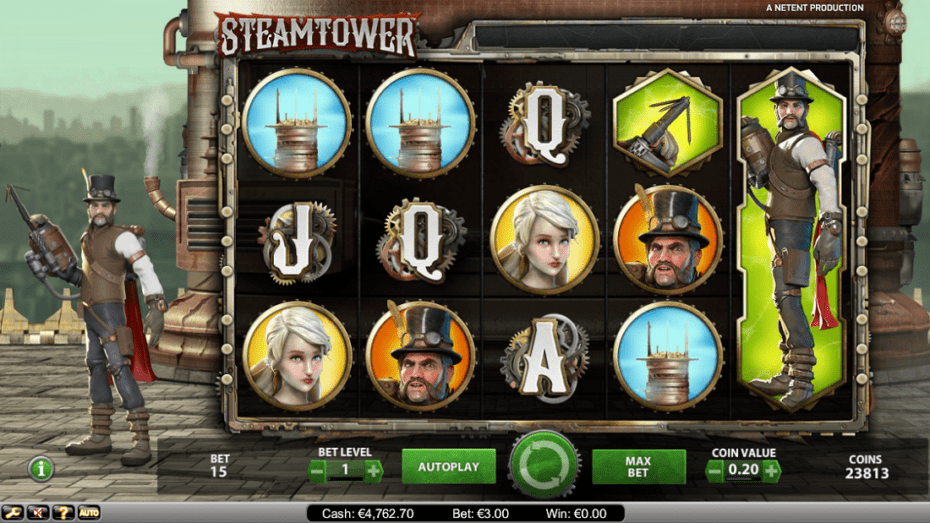 Multipliers
Just as many other NetEnt online games, Steam Tower has a bet multiplier feature that gradually increases over the course of the game. The bet multiplier has a maximum of 7x, which can be achieved by reaching the top floor of the tower.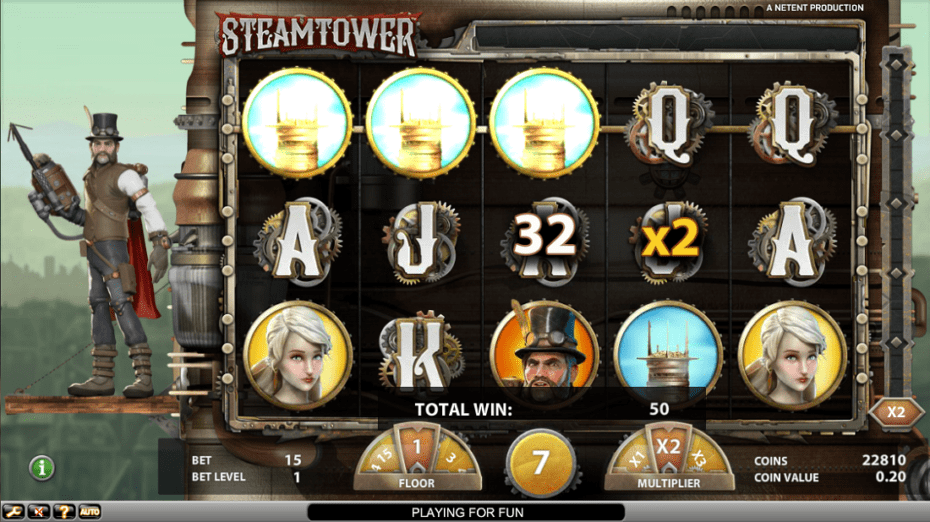 Play Steam Tower for real money