Pros and cons
Seasonal theme

Free spins with multipliers

High win potential

Low overall bet
Rudolph's Ride Slot Review
Rudolph's Ride slot is a holiday slot, as you can probably guess from the name. Looking at the features, payouts and mechanics of the game we're in for another great Booming Games slot. However, it's a bit hard to say whether or not these seasonal slots are as interesting outside the holiday season. Judge for yourself, and if you're ready for some Christmassy action, this game is definitely an excellent choice.
The wintery setting of this slot opens up with a serene view over a snow-covered town. Perhaps the destination for all the presents incoming, or the industrial complex where Santa and his elves produce all the toys yet to be delivered. Sound effects and music are pretty much what you would expect, but of high quality nevertheless. The fancy graphics will certainly set the Christmas mood just right!
There's nothing extraordinary in the gameplay features and paylines, and as such you can find any number of online games that come with a similar number of paylines, wilds or other such things. However, when it comes to the theme the selection is a bit more limited. You might want to try the following games: Ghosts of Christmas, A Christmas Carol and Rudolph's Revenge.
If you don't mind the seasonal theme, or it's just what you're looking for, then Rudolhp's Ride offers an excellent mid-level slot. It has excellent graphics, it comes with a variety of exciting features, and most of all it offers some big prizes. The game is playable on all devices and it comes with a modern interface that lets you play the game the way you want.
How to Play Rudolph's Ride
To get started in Rudolph's Ride online slot you need to first choose your bet. As in all games, playing the game is entirely up to luck, so make sure you set your bet on such a level that you can make the most of it.
As the game has 20 paylines, and as the minimum bet is 0.01 coins per line, your minimum total bet is 0.20 coins per spin.
Once the above is done, you're ready to press the play button and enjoy the gaming in Rudolph's Ride slot. You can also choose to enable Autoplay, by setting how many rounds you want the computer to spin for you. There are other options as well, such as muting sounds or checking all your played rounds. The game itself offers five reels with three symbols each, combined with medium to high variance.
The imagery and symbols are familiar to anyone who has ever celebrated Christmas. You've got Santa Claus as well as Mrs. Santa Calus, the elves, Rudolph himself, presents, snow, and all sorts of stocking ready for Christmas. Payouts from these symbols range from 5 to 800 times your line bet.
There are also two special symbols, both of which add their own bit of extra fun into the game:
Wild – Substitutes for all others, and more importantly pays up to 1000 times your line bet.
Scatter – Used to launch the free spins.
Rudolph's Ride Slot Features
The main bonus feature in Rudolph's Ride comes in the form of free spins, which add some interesting functions into the game. You don't necessarily need to wait for the bonus to fire, as the basic game comes with stacked symbols, which might lead to some big wins too.
Stacked Majors
In Rudolph's Ride slot you'll find that the major symbols, which are the ones with the highest payouts, can land in stacks of three. Should one of these land on the first reel that will automatically mean a payout for a three symbol combination. All in all, this makes landing big valuable combos much easier.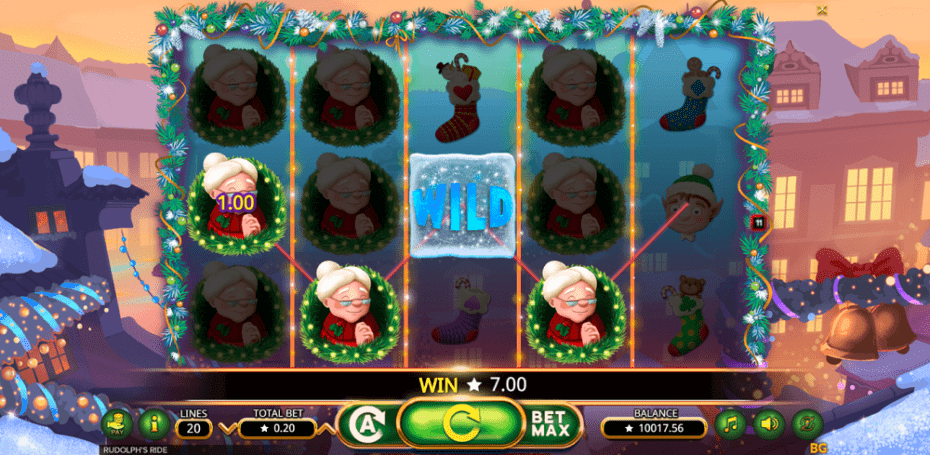 Free Spins With Level Multiplier
Landing three scatters will launch the free spins mode in Rudolph's Ride. This is a feature that is divided into three levels. Initially, you will get eight free spins on level one. Landing three or more scatters awards you with eight more free spins for level 2. Landing three or more scatters on level 2 advances you to level three, where three or more scatters will result in eight spins every time.
Of course, landing the scatters is easier said than done. However, if you manage to do it you are rewarded with double wins on level two, and triple win multipliers on level 3. Suffice to say, the win potential in this feature is massive.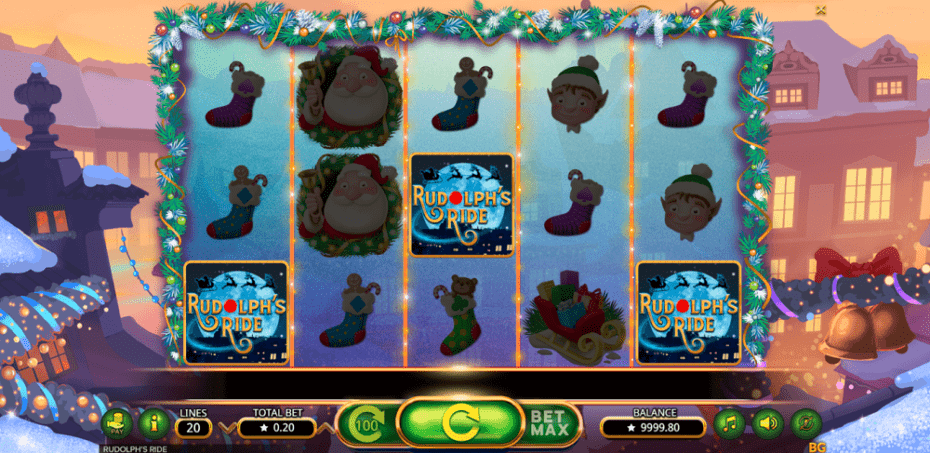 Play Rudolph's Ride for real money