Pros and cons
Unique game features like BONUS POP BUY.

Multi-platform support for diverse devices.

High-quality, unique, and vibrant graphics.

Option to select the number of lines.
Lumber Jack Slot Review
Endorphina, a renowned name in online gaming, unveiled its latest masterpiece, the Lumber Jack Slot, in December 2022. This video slot is not just a game; it's an experience. Set against the backdrop of a serene forest, the design and atmosphere of the game are nothing short of enchanting. Tall trees, green grass, and the golden sun create a setting that promises relaxation and excitement.
The plot is intriguing, revolving around a lumber-cutting competition deep within the woods. The main character, the Lumber Jack, stands out as a participant and as the Wild symbol in the game, adding depth to the narrative. Though not explicitly mentioned as 2D or 3D, the animation is of high quality, with wood-made reels filled with big, vibrant symbols. The auditory experience complements the visual delight with a captivating melody and special audio effects that resonate with hard rock fans.
The Lumber Jack Slot will feel familiar yet refreshingly new for those who have enjoyed slots like "Timber Jack" by Bluberi and "Woodland Fairies" by Red7. The game's multi-platform compatibility ensures players can dive into this forest adventure on mobile phones, tablets, and PCs.
In summary, the Lumber Jack Slot is tailored for players who appreciate a blend of serene nature, thrilling competition, and the chance to win big. Whether you're a casual gamer or a seasoned slots enthusiast, this game promises an unforgettable experience.
How to Play Lumber Jack
The Lumber Jack Slot offers a structured gameplay experience with 5 reels, 3 rows, and 10 paylines. This standard structure ensures that new and experienced players can easily navigate the game. Winning in this slot requires matching symbols, except for SCATTER symbols, on enabled paylines and adjacent reels, starting from the leftmost. The SCATTER symbols, however, count at any position on the reels. Only the highest win is paid for the number of SCATTER symbols and combinations on each enabled payline.
The user interface is seamlessly integrated with the game's woodland theme. It's intuitive, ensuring players can easily adjust settings and understand the game mechanics. Here's a breakdown of the control buttons:
Bet Button: Adjusts the amount per line you wish to bet.
Lines Button: Sets the desired number of lines.
Coin Value Button: Modifies the coin value.
Turbo Button: Accelerates the spinning of the reels.
Spin Button: Initiates a single spin with the chosen bet.
Auto Button: Allows automated spins.
Cards Button: Activates the Risk feature after a winning combo.
Bonus Pop Button: Directly accesses the bonus feature.
For players keen on specifics, the coin value ranges from 0.01 EUR to 1 EUR. Considering the 10 paylines, the total bet range spans from 0.01 EUR to 100 EUR. The game boasts a maximum win rate with Wild symbols that can bring in up to 900 EUR. Regarding Return to Player (RTP), the slot offers 96.07%, which is standard for Endorphina slots and aligns with industry norms. Lastly, players can expect a medium volatility, striking a balance between frequent small wins and occasional big rewards.
Lumber Jack Symbols
Symbols in the Lumber Jack Slot are meticulously crafted, echoing the game's woodland theme and narrative. They represent a harmonious blend of traditional slot symbols and unique icons that resonate with the lumberjack competition storyline. The innovation in design and animation sets the game apart, offering a modern twist to classic slot symbols.
Here's a detailed look at some of the most profitable symbols:
Feller Buncher: Depicts a mechanical tree cutter with multipliers that can amplify your bet by 4 to 20 times, potentially yielding a maximum win of 200 EUR.
Helmet: Represents a lumberjack's protective gear, offering wins that can multiply your stake by 4 or 20 times.
Chainsaws: These powerful tools can multiply your bet by 2 to 8 times when part of a winning combination.
The game also features lower-paying symbols, vibrant renditions of playing card values (10, J, Q, K, A). While offering smaller rewards ranging from 4.5 EUR to 36 EUR, these symbols add depth to the gameplay and frequent winning opportunities.
Special symbols
Special symbols in the Lumber Jack Slot are not mere placeholders but game-changers. They differ from regular symbols by offering unique features and enhanced winning potentials. The Lumber Jack Slot boasts a rich array of special symbols compared to many slots.
The Lumberjack (Wild Symbol) stands out, depicting the main character. It can form its winning combinations or substitute for other symbols, amplifying wins.
Scatter Symbols (Trees) are the gateway to the bonus feature, unlocking a realm of free games and multipliers. These symbols, especially when combined, can drastically alter the gameplay, introducing layers of excitement and reward.
Lumber Jack Features
Slot machine features are the heart of any game, determining its appeal, replay value, and winning potential. The Lumber Jack Slot, in this regard, stands tall among its peers. The game's features not only offer players the potential for significant wins but also ensure an engaging and dynamic gameplay experience.
Free Games With Unlocked Multipliers
The allure of free games is undeniable, and this feature is triggered by collecting 3 or more SCATTER symbols. Players are awarded 12 Free Games, but what sets this feature apart is the presence of unlocked multipliers. Multipliers such as X2, X3, X5, X10, and X20 can land on the fifth reel, amplifying every win on every winning payline. These Free Games, played with the same bets and lines as the initial game, can be re-triggered, offering extended playtime and increased winning chances.
Bonus POP Buy Feature
This feature is a boon for those eager to dive straight into the action. Players can activate a package of 8, 15, 25, or 100 Free Games anytime, bypassing the traditional route to the bonus round. The cost of this feature varies based on the total bet and the chosen option. It's a strategic tool for players who maximize their winning potential on their terms.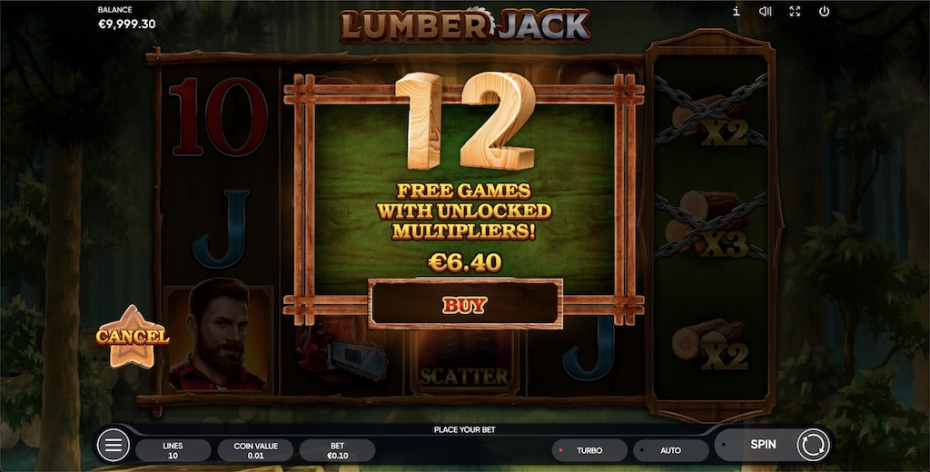 Risk Game (Gamble)
Risk and reward go hand in hand in slots, and this feature embodies that spirit. Available after any winning round, players can challenge themselves in a mini-game with cards against a virtual dealer. Success doubles the last win, and the brave can play up to 10 times in a row. It's a test of nerve and intuition, adding an extra layer of excitement to the game.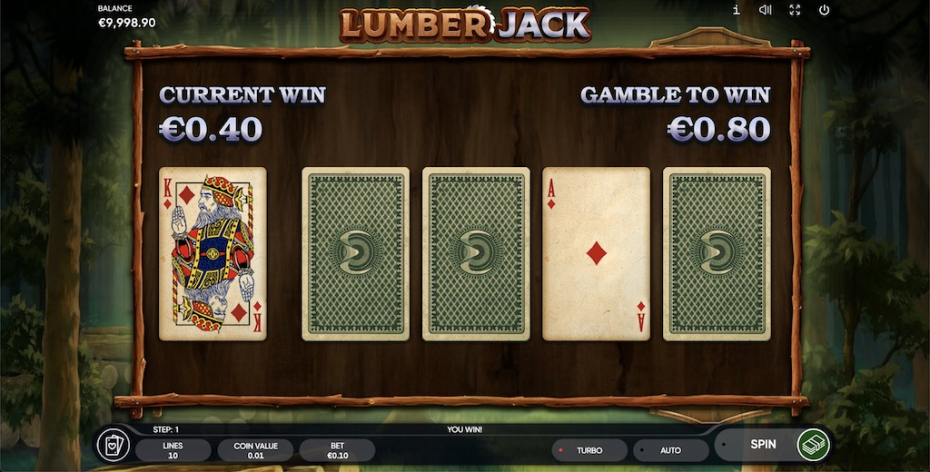 Play Lumber Jack for real money