Pros and cons
Great visuals

Engaging gameplay with multiple features

Flexible betting range
The top prize is worth only 973x

Big wins hinge on bonus features
Buster's Bones Slot Review
Step into the mischievous world of Buster's Bones by NetEnt, a captivating online slot game that takes you on a thrilling Wild West journey filled with adorable canines and exciting features. Join Buster as he scampers through the dusty back roads of a never-ending canyon, immersing you in a world of pup-ridden adventures and big win potential.
Visually, Buster's Bones is a delightful treat for the eyes. The game is set against a lush canyon backdrop that could easily serve as the stage for a cartoon, featuring action reminiscent of Road Runner and Coyote. The colorful graphics and charming dog characters bring a playful and adorable atmosphere to the game, creating an immersive experience for players.
For players who enjoy games with similar aesthetics and playful themes, Buster's Bones shares similarities with other popular titles like "Wild Wild West: The Great Train Heist" by NetEnt and "Coywolf Cash" by Play'n GO. These games offer a blend of Wild West elements, captivating visuals, and entertaining gameplay.
Buster's Bones caters to a wide range of players. Dog lovers and those who appreciate charming and light-hearted themes will find the game particularly enjoyable. The game's playful atmosphere and adorable canine characters add a sense of fun and excitement to the overall experience.
How to play Buster's Bones
Buster's Bones is played on a 6×6 grid, offering an innovative cluster pays system. Wins are formed when at least 5 matching symbols land adjacent to each other horizontally or vertically. When a win occurs, the Avalanche mechanic removes the winning symbols from the grid, allowing new symbols to fall into place. If another cluster is formed, the Avalanche feature continues. This cascading mechanism adds an extra layer of excitement and increases the potential for consecutive wins.
NetEnt's expertise in game design is evident in Buster's Bones, as the user interface is intuitive and user-friendly. The game features well-designed controls, including buttons for adjusting the bet size, autoplay functionality, and access to game settings. The graphics and animations are smooth, ensuring a seamless gaming experience for players.
Buster's Bones offers a flexible betting range, catering to various players' preferences. Bets can be placed from as low as 10 cents up to a maximum of $200 per spin. This wide range allows both casual players and high rollers to enjoy the game at their preferred betting levels.
Buster's Bones operates on a medium/high volatility model, offering a balance between frequent smaller wins and the potential for larger payouts. The game provides three different RTP options, with the maximum RTP set at 96.07%. While the maximum win potential of 973x the bet may not be as jaw-dropping as some other slots, the exciting features and engaging gameplay compensate for this, creating a captivating gaming experience.
In Buster's Bones, the game's symbols add to the overall thematic charm. The lower-value symbols are wooden squares imprinted with playing card suits, including hearts, diamonds, clubs, and spades. On the other hand, the higher-value symbols feature three adorable doggies with green, blue, and purple backgrounds.
Keep an eye out for the special symbols:
Wild – Substitutes for all the symbols except for scatter, bones, and Buster symbols
Buster – Also acts as a wild but can trigger multiple events if paired with other special symbols
Scatter – Up to 2 scatters can appear on each spin. In combination with Buster they trigger the free spins feature
Bones – At least one of these symbols in combination with Buster will trigger the associated feature
Buster's Bones Features
Now, let's delve into the carefully crafted special features that Buster's Bones has to offer. While they may be limited in number, these features are intriguing and have been thoughtfully integrated to enhance and elevate the overall gaming experience.
Buster's Bones - Buster's Bones Feature
A notable symbol in Buster's Bones is the Buster special symbol. When one of these symbols lands on the reels alongside at least one bone special symbol, the exciting Buster's Bones feature is triggered.
Once activated, Buster leaps into action, bounding across the reels to collect bones. Each bone collected by Buster turns wild, substituting for all other paying symbols. As Buster gathers all the bones, he also acts as a wild symbol himself.
He tallies up the values of the collected bones, creating a win multiplier. When Buster is part of a winning combination, he utilizes the multiplier to boost payouts. At the end of the spin, Buster and his multiplier disappear, but there's always a chance for them to return on subsequent spins, bringing their wild and multiplier-boosting antics back to the reels. This unique feature adds excitement and the potential for enhanced winnings in Buster's Bones.
Buster's Bones Random Features
During gameplay, players may encounter an intriguing extra feature. This feature adds an element of surprise and excitement to the spinning reels.
As the reels spin, bones and the Buster symbol may suddenly be tossed onto the grid. As previously mentioned, if the Buster symbol appears alongside at least one bone symbol, the Buster's Bones feature will be triggered.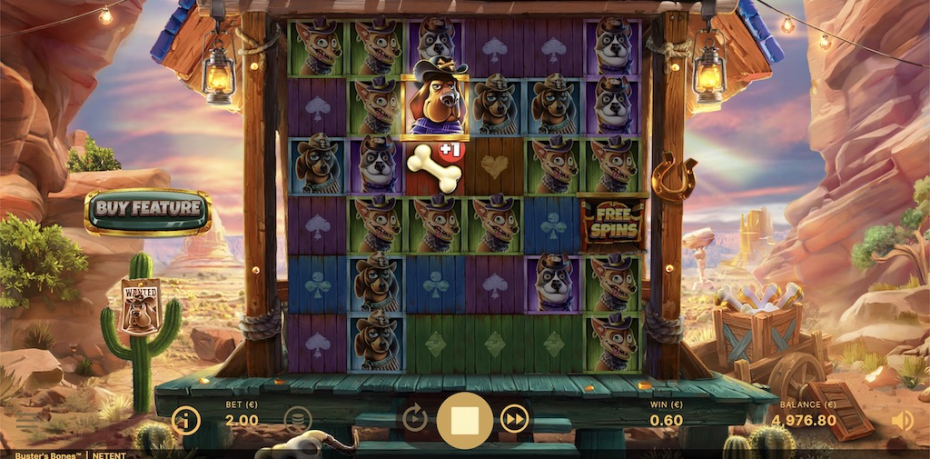 Buster's Bones Free Spins
When players land two Free Spins scatter symbols on the reels, along with one Buster symbol, they are rewarded with a generous allocation of 8 free spins in Buster's Bones.
As the free spins commence, the game takes a delightful transition from the canyon to a charming saloon setting, adding a touch of novelty to the gameplay experience. During the entire duration of the free spins feature, Buster himself joyfully hops around the reels, diligently collecting bones. These bones serve a special purpose as they contribute to building a multiplier that remains active until the end of the bonus round.
It's important to note that the multiplier is only reset when the bonus round concludes, offering players the potential for enhanced winnings throughout their free spins.
Moreover, if one or two additional Free Spins scatter symbols happen to land on the reels during the bonus round, players are rewarded with one or three extra free spins, respectively. This feature adds an extra layer of excitement and increases the chances of prolonging the rewarding free spins experience in Buster's Bones.
Note that the feature can be purchased for 60x the active bet amount!
Play Buster's Bones for real money