Pros and cons
UNIQUE BRANDED THEME

TONS OF FEATURES

A VARIETY OF BONUS SPINS

POSSIBILITY OF BIG WINS
Sausage Party Slot Review
Sausage Party was something of a hit-and-miss as a movie. It has attained some sort of cult status, but for most people it doesn't seem to have been of any interest. Perhaps there's just not that much entertainment in sausages for a full movie? Fear not, for Sausage Party slot might take the concept to a whole new level. This branded online slot by Blueprint Gaming offers a lot more than what you'd think at first look. There's a ton of different features to get you started.
The game opens up with an animation that you should check out, at least the first time you play the slot. From there Sausage Party advances to the reels, which are full of high-quality graphics. The movie might not be worth much, but there's plenty of content that will boost this online game to unique heights. The sound effects, music and animations perfect the setup, leaving you free to admire the features and wins that are about to enter the reels.
When it comes to the theme you're better off looking at other branded movie slots like Ted Megaways, the Mask or Gremlins. Otherwise, this is a pretty standard slot with its 20 paylines and five reels. And a bit unstandard online game when it comes to features.
What we can glean from all of the above is that you're looking at an online game that is very unique in many different ways. It will still give you a good run for your bet if you're looking for an easy to play game. If you've played Blueprint Gaming slots before you know that the quality is good, and everything is mobile compatible. Simple, fun, and with some big wins to bet on.
How to Play Sausage Party
Sausage Party slot isn't a hard game to play. All you need to do is press the play button that is held by the sausage, and you'll get the party going. Before that, you might want to set the bet, which ranges from 0.10 to 200 coins per round. The upper limit is such a large bet that it's hardly necessary, though it's good to have the choice should you have the bankroll to support them in this game.
Autoplay offers several different features to set up your automated rounds just the way you like, for example with a loss or a win limit. The return to player in the game is pretty much the average, just a tad shy of 96%.
The basic paytable offers wins up to 500 times the line bet, which works well together with the medium to high variance that Sausage Party game comes with.
The symbols are a combination of classics, such as the Jack to Ace playing card ranks, as well as characters from the movie Sausage Party. Since most of the symbols come from the movie, you probably won't be surprised by the high-quality and the plentitude of animations. There are also two special symbols:
Wild – There are several wilds, each with their own functionality.
Scatter – A collection of sausages that work together to bring about a ton of different features.
Sausage Party Slot Features
We've mentioned the features a couple of times now, but you'd still be surprised by how many different bonus modes are going on in this game. The bonuses can be divided into two categories. The Immortals is a group of random features whereas the bonus feature is a group of specials activated via bonus symbols.
The Immortals
These Sausage Party specials can be activated completely at random, which means that they can come into play at any round you spin on. These only apply to the spin they show up on, with reels returning to normal on the next round:
Skin on Wilds – An overlay descends upon the reels, turning other symbols into wilds.
Frank's Hot Dog Wilds – All symbols on a random reel are turned into wilds.
Mighty Douche Colossal Reels – A high chance of three adjacent reels joining forces, which will form one giant symbol.
Touching Tips – A random mystery symbol which turns into matching symbols, giving a bigger chance of landing wins.
Bath Salts Bonus Boost – A bigger chance of scoring the real bonus features of the game.
Keen as F% $ * in 'Mustard – A guaranteed winning round with a guaranteed big win.
Two more random features which can turn a losing spin into a random win.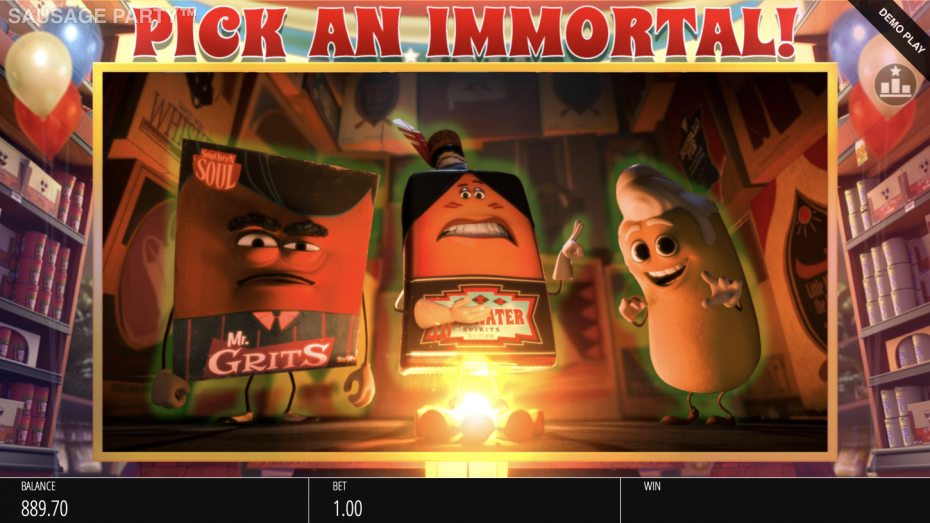 Bonus Activation
This is a bit different from the above Sausage Party feature. First off, you need to land three bonus symbols to get things started. After this a bonus wheel appears, you give it a spin, and one of the six possible game features is activated.
Still Fresh Bonus. From the above we transfer into a shelf of sausages. This is perhaps the most iconic Sausage Party feature you'll find in the game. You need to pick a pack of sausages, and if those sausages survive the round, you'll win a set amount. Each round you have a smaller chance of surviving.
You can also win another bonus round.
The (Not So) Great Beyond Bonus. A simple feature where you pick a food item, which can return a cash win, a multiple of your bet, or another bonus.
Gettin 'Juiced Free Spins. A number of bonus spins are awarded, with a set of random bonus value symbols added to the reels. Each round you can juice up those bonus symbols, which will transform the prize into your winnings. Once you get to the final spin of the game the reels change a bit, and you have a chance to win big or move on to another bonus feature.
Bread Bashing Free Spins. Like above, a set of bonus rounds are given to play for free. Two new wild symbols come into play, each with their own modifiers. These will affect each other as if both wilds land on the same spin you will get a double wild multiplier for all wilds.
At the end of the game, a re-trigger is possible. You will be asked to pick an item, which can end up with you collecting wins, getting more spins or advancing to another bonus feature.
The Even Greater Beyond Bonus. The biggest bonus feature Sausage Party has to offer. It will take a while to get this far, so play carefully. All the above features have a chance of getting you here. You can also activate it with five bonus symbols.
The bonus itself is pretty straightforward: spin the reels and keep on landing bonus multipliers. Once the spins result in a stop symbol all your wins are summed up and paid out.
Play Sausage Party for real money