Pros and cons
Unique castle building elements and theme

Straight up cash prize bonus round

Immersive Medieval animations and soundtrack
No free spins round

Big prizes take time to ramp up
Castle Builder Slot Review
As you hit the reels in Rabcat's Castle Builder, you'll build a set of fantasy castles along the way. Each castle completed brings a set of suitors hoping to win your daughter's hand in marriage – and bestow upon you a fat cash prize too!
With a set of 30 different castles to build, and some unique mechanics as well, this is an online slot game quite unlike most others you might have tried! Set against various picturesque backdrops of the fantasy kingdom, Castle Builder sure looks the part. The clanking and hauling sound effects as you build up your castles really add to the experience! There aren't too many slots out there quite like this one, but an obvious example would be its own sequel – Castle Builder II. Rabcat's later release adds a kingdom map to explore as well as more bonus rounds and more ways to win big.
If you like the sound of Castle Builder but want extras like free spins and multiplier features – the sequel could be the game for you! Overall, the original Castle Builder slot game has a great theme and some unique aspects. It's easy to learn, as there aren't too many features, and the low volatility means low bankroll players can make their deposits last! However, it might not have quite enough features or the massive win potential to keep all fans satisfied.
How to Play Castle Builder
Castle Builder is a 5×3 reel online slot game, with the castle building feature taking up about a third of the screen. It has 15 paylines, and players can adjust their bet between 0.15 and 15 per spin.
That's quite a low per spin limit for online slots, especially considering the max win potential isn't huge here either. Not a long-term game for high rollers then, probably.
The estimated RTP (return to player) of Castle Builder is 96.47%. That's the low side of average for an online slot game. It does have a very low volatility however, so you can make your bankroll last with this game.
Lastly in terms of controls, there's also an Autospin feature. If you feel like watching the reels spin and the castles grow by themselves. We won't blame you!
Castle Builder's symbols are also super cool – no generic symbols in sight. The Jack is a prince, the King and Queen are both there posing for a portrait… you get the picture! There are also two treasure chest symbols (one gold) which are the highest paying standard symbols. Topping off the symbols list are two special icons:
The Wild Symbol here is the master builder. He can replace any of the other symbols (except the Building symbols) to make a winning line.
The Collect Symbols are the four kinds of building material icons – standard, bronze, silver and gold. Each time you make a winning line with these you get a small payout, and the winning symbols are added to the building meter.
The more valuable the tile, Gold being the most, the faster the castle builds. Once it's complete you'll get a cash prize based upon the value of the building tiles put into it!
Castle Builder Features
Castle Builder's features are unique and interesting – but there simply won't be enough of them for many modern online slots players. If you like a simple easy-to-play game, this could work for you though! If you are among those players that feel two features is a bit short on quantity – there is a sequel, Castle Builder II, which addresses that issue!
Anyway, back to it. Here's our (short) list of Castle Builder's features:
Castle Building
Once you've collected enough building material symbols to finish your castle in Castle Builder, you get the cash prize Royal Wedding Bonus (described below).
You also move on to another castle, which is always a little bigger and more impressive than the last. Each castle takes more materials to build but offers higher prizes at the end of its construction. There are 30 in total to play through!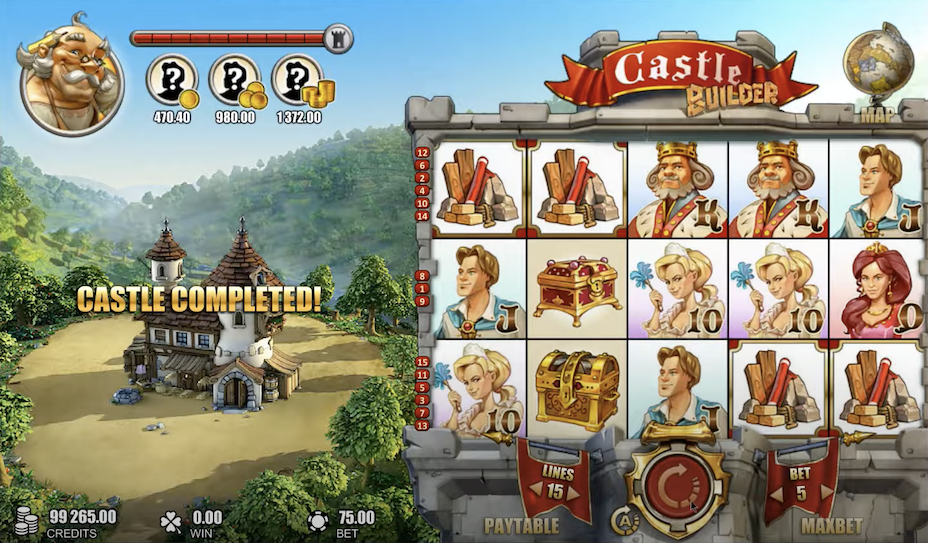 Royal Wedding Bonus
Once you finish a castle, three suitors turn up at your door who want to marry your princess daughter. One will be (relatively) poor, one will be well-off and the third could be fantastically rich – it's up to you sniff out which is which!
Pick your suitor and they'll reveal a cash prize. The prize levels go up as you complete more castles, and if you pulled more gold or silver materials when building it.
Play Castle Builder for real money